March 17, 2017
Don't let the words "masala" and "spices" intimidate you.
Most importantly, I hope the picture here, right out of the frying pan would be enough to make you want to linger a little longer: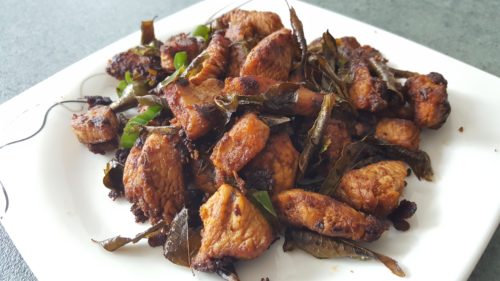 Because, if you'd only give this a teeny-weenie chance, the fusion of flavours from the spices will tease your taste buds and open up your senses that will leave you wanting more. Spicy and spices all! I know, I know…you might be wanting to click away just by glancing at the list of spices you see in the recipe card below.
Still. Don't. Not yet.
But if you choose to anyway, I'm telling you that you'd be missing out on such a wonderful Indian-inspired cuisine.
Turkey in Dry Masala Roasted Spice
2016-10-05 05:16:43
Serves 4
Succulent, spicy bite-sized turkey meat cooked in its own juices and all spiced up Indian-style with variety of roasted spices.
Ingredients
2 inches cinnamon stick
4 cloves
3 cardamom pods (stomped with a pestle such that the pods break and you see the tiny black seeds in it. Use all!)
A handful of crushed curry leaves
3 large onions, finely chopped (red preferred)
2 inches fresh ginger, de-skinned and chopped
6 cloves garlic, pressed ( leftover skin in the garlic presser can be minced and added in)
3-4 pieces green chilles, sliced thin
Half tspn turmeric powder
1 tspn chilli powder
2 tspn coriander powder
1 tspn garam masala
500g turkey meat, cut into bite-sized pieces
A sprig of curry leaves
Half tspn cumin powder
Black pepper
Salt to taste
A quater of a lemon
Olive oil for frying
Instructions
Dry roast turmeric, red chilli powder, garam masala and coriander without oil till fragrant. Set aside.
Heat up about 2-3 tbsp of olive oil. When the oil is hot enough, add in all the whole spices of cinnamon, cloves, cardamom pods (along with the skin and black seeds). Add the curry leaves
Fry up till you smell the aroma of spices
Add in onions, ginger, garlic and chillies. Saute till the onions are slightly browned. Make sure you keep stirring and leave nothing sticking to the bottom of the pan
Add in the spices dry roasted earlier. Stir and mix well for about a minute
Add turkey pieces and coat well with the spices already in the pan. Cook on low heat for about 15 minutes or until the turkey meat is thoroughly cooked
If it gets too dry, add in some water and continue stirring to prevent anything from sticking to the pan. Cover.
Once you start seeing some bits of the oil separated, add in the last sprig of curry leaves
Sprinkle black pepper and cumin powder. Mix well. Season with salt to taste
Squeeze with the juice of the lemon. Remove from heat.
Serve with rice.
Notes
You can substitute the turkey with chicken meat and/or use lime instead of lemon. Reduce the amount of chilli powder if you don't want it to be too spicy. Not using curry leaves however, would compromise the taste.
Grubbs n Critters https://grubbsncritters.com/