January 15, 2016
There is no greater joy than spending a Sunday afternoon baking with the kids to:
keep the little imps occupied to minimise the damage they could do in tearing the house down
mesmerise them with the magic of butter, eggs, flour and licking up the resulting cookie dough
fill the house with the aroma of freshly-baked cookies
It's always a messy affair when kids help with baking, but it's a mess that I have come to expect and accept because there is no greater reward than seeing the glisters in their eyes when they get to be a part of the entire baking operation.
This chocolate chip cookie recipe is really easy to make and all done in no more than half an hour. For the fun factor, I let the kids choose some of the ingredients which they would like to include in their cookies and with some help, I let them blop the dough away on the baking tray. I think their choice of adding in honey cornflakes was a good call on their part.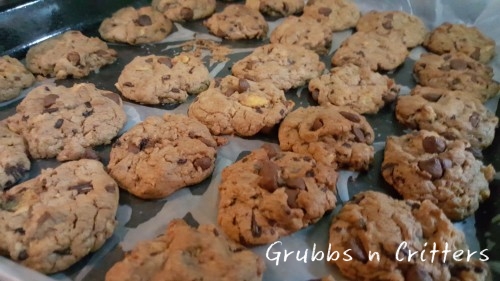 Squirt added more of his personalised ingredients into some of those blobs by licking them before placing them on the tray.It happened before I could stop him in time and it's the one extra ingredient I would not recommend you add if you intend to give them away to the neighbours. Otherwise, they make for some great afternoon snacks.
Soft, chewy, chocolatey, cornflakey cookies, anyone?
Soft, Chewy Chocolate Chip Cornflakes Cookies
2015-12-28 11:03:46
A delightful chocolate chip cookies with a touch of crunch that just melt in your mouth with every bite!
Ingredients
125g caster sugar
100g light brown sugar
125g softened butter
1 egg
225g self raising flour, sifted
1 tspn baking soda
100g semi-sweet chocolate chip cookies
2 tbsp cocoa powder, sifted
1 tspn vanilla essence
1 cup honey cornflakes
Instructions
Preheat oven to 180°C. Grease or line the baking tray (I use wax paper)
Cream sugars and butter together until smooth.
Crack the eggs in, add vanilla essence and beat them together. Do not over-mix as it may curdle the mixture
Add in the flour, cocoa powder and chocolate chips. Mix well
Pour in the cornflakes and continue mixing. The dough should be quite sticky
Cover the dough and let it cool in the fridge for about an hour.
Roll blobs of the dough onto the baking tray
Bake in the pre-heated for 7-8 minutes
Leave to cool
Notes
It is important to chill the cookie dough in the fridge before baking so the cookie would spread less and retain its shape better.
Grubbs n Critters https://grubbsncritters.com/