July 29, 2016
Shock horror when I discovered that we had run out of food to feed ourselves after a late errand run one evening.
It was way past the kids' usual dinner time, we have ran out of the home-made frozen meals which I usually would have cooked in advance for the kids and I was not up for Silver Bullet's idea of ordering snacks to tide us over for dinner.
It was not an ideal situation as not only was there almost nothing left to cook at home (or so I thought!), I was also mindful that I did not want to keep the kids waiting too long while I whipped up something that could take a while.
But! I had plain, boiled spaghetti kept in the fridge from the day before and scouring further, I found a can of tomato puree, coriander powder, fresh frozen slices of chicken breasts and a variety of cheeses in the fridge. We also have a pot of fresh basil leaves which we are growing at home.
That was that. And I ended up with a new home-cooked meal recipe which was creamy, hearty and satisfying.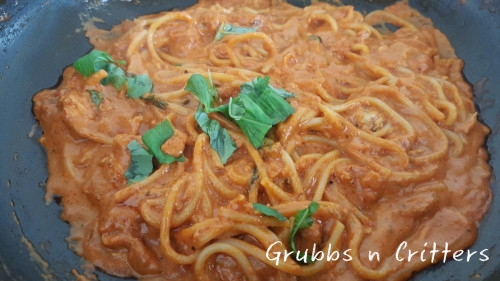 This has been a big surprise to me as I was initially skeptical that the kids would even eat it given their general dislike for anything tomato-based. But I was delighted that they gave it a go, liked it – no LOVED it, finished everything off their plate (sauce and all!), asked for more and then again several days later.
For a mother, that is the best compliment ever. And to think that I thought there was nothing to cook! This one is a definite keeper. Enjoy.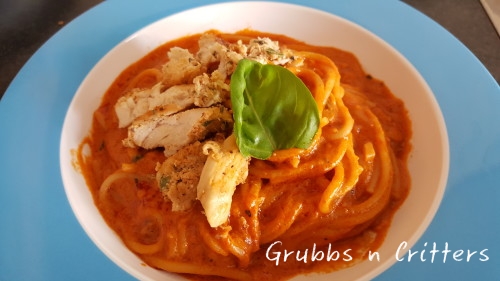 Creamy Tomato Spaghetti topped with Pan-fried Coriander Chicken
2016-06-18 05:50:23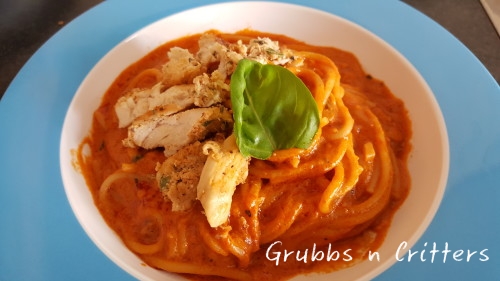 Serves 4
Creamy, hearty and satisfying one-plate meal for both adults and kids.
For the chicken
200-300 grams chicken breasts, sliced
2 tspn coriander powder
1 clove garlic
Half tspn rosemary
2-3 drops of Worcestershire sauce
A good dose of black pepper
Pinch of salt
For the sauce
4 pieces of thinly sliced chicken deli
1 small red onion, sliced thin
2 cloves garlic, minced
Half a cube of chicken bouillon
1 small can of tomato puree
2-3 tbsp light cream cheese
A handful of grated cheese (I used old gouda)
Half a cup fresh skimmed milk
5-6 basil leaves chopped
Some water
Salt to taste
Half a packed spaghetti noodles
4 tbsp cooking butter to fry the chicken
Instructions
Cook half a packed spaghetti noodles per instructions on pack. Set aside.
For the chicken
Defrost chicken. Rub garlic, coriander powder and rosemary onto the chicken
Add seasoning and pan-fry in cooking butter till browned
Remove chicken from the pan and set aside once cooked
For the sauce
Use the remaining oil from the chicken to saute onions and garlic
Add in sliced chicken deli and chicken stock. Stir well.
Add tomato puree and mix well. When the sauce gets a little bubbly, mix in the cream and grated cheese
Add milk and mix well. If it gets too thick, add some water
Add chopped basil leaves and boil for about 5-8 minutes
Mix in the spaghetti noodles and stir well
Top with additional basil leaves for garnish
Notes
Best eaten when sauce is freshly made. The use of chicken deli adds flavour to the sauce while milk is optional as I used it mostly to thin the sauce but without diluting the creamy flavour.
Grubbs n Critters https://grubbsncritters.com/
It's been a while since I have done any link-up and I thought that I'll join in the fun at for Fiesta Friday #130 this week!