March 27, 2015
A Singaporean (or, I believe Malaysian) – Malay kitchen would not be complete without a bottle of this: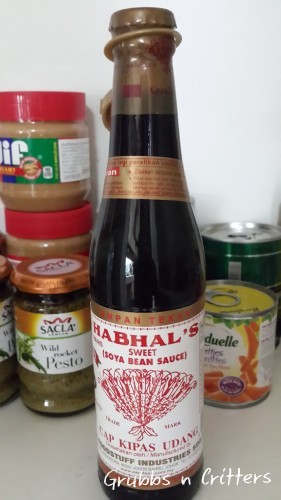 This may be alien outside a typical Singapore-Malay home, but this bottle of sweet black sauce (most commonly known as kicap manis) is one of the things I grew up with. It is one of the things which I have refused to compromise or even think about a substitute and till today, remains as one of my must-haves to bring back to Bangkok with me after each visit to Singapore.
It brings back lots of childhood memories at meal times- boiled rice, a dollop of butter, several drops of kicap manis, fried egg and we kids would be good for a meal! Even as an adult, I enjoy the occasional aforementioned simple combination.
In my opinion, there's no other sweet soy sauce that is as good as the Habhal's. I'll be so screwed if they take this off the shelves!
It is also with this sweet sauce that home-styled Asian dishes are created. My mom would often make this dish with either chicken or fish and they would taste just as good. The brownish-black colour belies the taste, and often, it's mixed with various other ingredients and spices, making the dish sweet, spicy yet flavourful.
Beef in Black Sauce (Daging Masak Kicap)
2015-07-13 13:57:55
Ingredients
1 big red onion, sliced
15-20 pieces shallots
10-15 pieces of dried chillies
4 garlic
2 tbsp of cumin
1 inch ginger, peeled and sliced
2-3 cloves
2 star anise
1 stick cinnamon
2 green chillies, sliced lengthwise
1 stalk of lemon grass, bruised
500g – 800g of beef, sliced
4 potatoes, peeled and quartered or sliced
1 cup kicap manis (or sweet black sauce)
1/2 cup condensed milk
Instructions
Boil beef till tender. Once done, marinate the beef into 1 cup of sweet black sauce and set aside for at least 30 minutes
Cut the dried chillies in a slant as it is easier to get rid of all the seeds. Rinse and fry for a few minutes without oil
Blend garlic, cumin, ginger, shallots together with the dried chillies. Add a little water for easier blending
Heat up oil and when oil is hot enough, add in cloves, star anise and cinnamon. Mix them up till fragrant and put in the sliced onions and green chillies. Fry for a few minutes.
Add in the blended ingredients and fry them up for about 10 minutes. Add in the potatoes and cover for 20 minutes
Add in the marinated boiled beef. Mix well and season with salt (to taste).
Lastly add the lemon grass and condensed milk. Mix well, bring it to a boil and make sure that the potatoes are cooked.
Notes
This dish is best served with rice. Enjoy!
Grubbs n Critters https://grubbsncritters.com/
#FoodieFriDIYs