November 20, 2013
Kids seem to be wired to just KNOW when to interrupt when the adults are talking. Spud is of no exception in this regard – a habit which she has been honing since she turned 2.5 years old and it has gotten worse in the recent months.
At her age, Spud seems to have a LOT to say; which is absolutely fine! The problem is that she usually feels the need to say a lot of things right about the time when Silver Bullet and me are trying to have a conversation.
While I understand that she is behaving in an age-appropriate way and try as I might to stay patient with her to impart the most appropriate response she would later emulate, I still find the constant interruptions highly exasperating. Time and again, we will tell her nicely that it is rude to interrupt and that she will need to wait till either of us stopped talking…to which she would comply for a few seconds, and the moment there was a pause, she'd chime in with a, "Can I talk now?"
And then she repeats that over and over and over again whenever there is a small pause. It suddenly became some kind of a game to her and I realized that it would be quite unfair to get annoyed, because she did wait for a pause in between. Grrrrrr.
One time, though, I lashed at her the very second she interrupted a conversation I was about to have with Silver Bullet as we were driving out of the apartment. I had barely said my 3rd word and there she was calling, "Mama, Mama, Mama…" like there was no tomorrow. I tried to ignore her and continued with our conversation, but that did not work. She was relentless and as my ears throbbed away with the incessant call for attention, I raised my voice and lashed it all out.
It was a little harsh, I know, and my excuse was that I had woken up on the wrong side of the bed that day. I had no patience for persistent interruptions and I was getting really annoyed having to repeat myself to her every damn time. (Yes. I realized she is only three. Thanks for the reminder!)
So I lashed. And that sent her over the edge. She started sobbing and within seconds was screaming uncontrollably. If not for the moving car, I swear I would have lunged myself out of the door. I rolled my eyeballs again, and about ready to explode, but Silver Bullet (bless him!) sensed my stress building up and very quickly took control of the situation to calm Spud down by talking to her ever so gently – and he did that as he was driving at the same time (!)
It felt like forever before she finally calmed down and didn't quite say a word till we got to our destination.
All drama seemed forgotten on our way back, and for a little moment, there were no interruptions as Silver Bullet and me started chatting in the first few minutes. We could even finish our sentences!
Then, there was a small pause. As if right on cue, there came a little voice from the back of the car, asking me, "Mama, are you talking? Can I talk now?"
As Silver Bullet and me looked at each other with a knowing smile on our faces, I gave her a glance, told her yes, she can talk now – thanks for waiting, and proceeded to ask her what was it that she needed from me.
Nonchalantly, she smiled and said, "No, I'm only asking."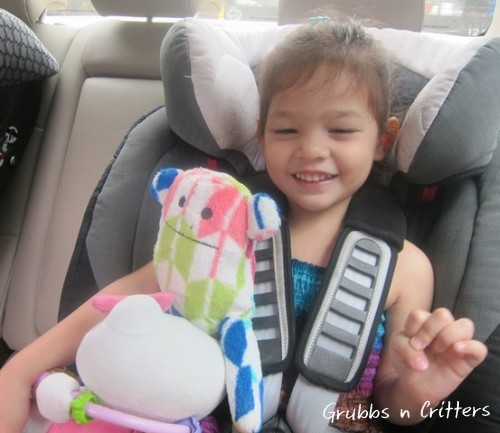 Knowing that it would be impossible for her to see me as I have got my back to her, I rolled my eyeballs…feeling more tickled at her response than anything else. I'm now more determined than ever to try a more effective way to handle her interruptions – one being to tell her that if she wants something when I am in the midst of a conversation, she should gently squeeze my arm. I will then squeeze her hand to indicate that I am aware that she needs attention, but she would have to wait.
I reckon it would take a while before she gets it, and it is worth every shot. The only thing I need to work on is my ever-decreasing patience and a quick and clever come-back when she pulls one of her smart-alecky replies on me.