September 5, 2014
My work life has been very intense in the last 2 months with hardly any brakes in between. There's barely any downtime or room to grasp for air, and, I find myself struggling to breathe.
With all the things that needed to be done, issues to resolve, expectations to be met and new initiatives to drive, I feel awfully stretched. I have been exhausted, but the funny thing is, I am still all pumped up by the myriad of challenges that has come my way.
One of the coolest thing about my job is being able to work and collaborate very closely with the big guns of the digital world. Running and facilitating workshops internally and externally have been my forte and although it is not my full-time job (or even explicitly required in my official job scope), it is something I enjoy doing every once in a while.
It has been raining workshops in the last few months, with at least 3 more to come before the year ends. Somehow, I managed to pull off all the planning and prep work required to activate a workshop for a rather big group without losing my mind.
I recently ran another workshop and collaborated with a social media giant for my client with barely 3 days to finalize the agenda and prepare my presentation as I kept getting pulled in 10 different directions with 10 other different things that needed my attention. This time round, I had only managed to organize my thoughts and start writing my presentation two days (gasp!) before the workshop, and needless to say, it was a rushed job. I had asked one of my trusted staff to look into the presentation to see if it was OK, and as I didn't hear anything from it, I assumed everything was fine and dandy!
One of my first few slides had a wordle of thank yous in different languages to thank our partner for hosting (and funding!) the venue at a last minute notice, and one word that was missing was a thank you in Thai. I decided to be creative by inserting a Thank You written in Thai and started to google for the very word.
Obviously, my Thai is crap! And after finding what I thought was a Thai Thank You word, I inserted the word I found on my slide, with every intention to get one of my team members to proof read for me. I thought about asking one of them to write it for me, but because they were all so busy, I delayed my request in my bid to try to be considerate. Somehow, the whole Thai word thing slipped my mind as I got distracted with a million other things while I was at it. I had even completely forgotten that I had inserted the word in there.
The workshop venue was huge! Along with a massive space to house 100 people, the room came with 2 giant screens for a key-note presentation. My lead-in introduction session went very well. I had proudly flashed my thank you slide to our partner prior to my session proper, did a cool ice-breaker session, presented confidently and managed to get the 50+ audience engaged before passing the baton to our partners.
When I walked to the back of the room however, one of my subordinates quietly (and rather uncomfortably) approached me telling me that I had the Thank You word in Thai wrong! The word that was inserted in my group of wordle cluster was actually translated as "Nong Sao" or little sister. My eyes immediatey popped out and my jaw dropped. Not that our partner would know because they are all foreigners.  But Oh! The embarrassment of flashing that on 2 big fucking screens to a 100% Thai audience!  I cursed myself for forgetting to get that proofread and not getting a Thai to just write the word for me in the first place!
My heart raced and my head spun from my own stupidity. I was sure that by now, a few of those people would have posted up my slide on social media and mock at my blunder! It was hard to imagine that NO ONE noticed!
I somehow managed to keep my cool and pretended to shrug it off and blaming it on Google Translate. I felt like dying inside.  In all honesty, I admitted to my subordinate that I have asked one of them to look through the presentation (he isn't Thai so he could not have possibly known! Duh!) and I should have in fact, checked with one of my Thai colleagues but I had actually forgotten to.  Oh well! I said to him. Damage was done and I thanked him for pointing that out to me.
I then walked out of the room for a breather to calm my head from my horrific blunder. In a matter of minutes, I decided that I was not going to ignore it. Instead, I made up my mind to publicly admit my mistake, apologise to my Thai audience and make it right again by flashing the right Thank You word in Thai when I do the closing.
As soon as the idea popped in my head, I scuttled back into the room and asked my staff to write the Thai word for me to amend my slide. When I came back on again for a wrap up, I casually slipped in another profuse thank you to our partner for funding the event – this time with the right Thai word on my slide. As I publicly admitted my mistake, there were several shout-outs from the floor of the word "Nong Sao" from the earlier slide. I humbly apologized and jokingly remarked with a, " I never learn. Never trust Google Translate!" which was met by a few chuckles from the floor.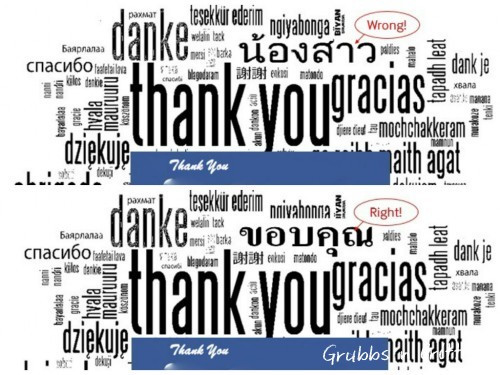 I surprised myself, really. Usually, mistakes like that would eat me up, but this time round, I somehow managed to keep myself level-headed, and even managed to shrug it off.
Actually I could have just ignored it and pretended that it never happened, but I thought that my public admission and apologising for it was a good recovery tactic to soften the blow from some serious embarrassment of my sheer stupidity!  In fact, I could not thank my staff enough for pointing that out to me; because it would just be cruel not to.
Ah! Another lesson learnt. Don't be a fumbling idiot like me.