September 5, 2016
5 days into September and reminiscing our life back in Thailand has been at the back of my mind for a while now.
I guess it's a matter of time before I'd put my thoughts into words.
After all, spending 11 years of my life in a single city in just one country that I am not a citizen of is a long time. That was four thousand and fifteen days in total. That was close to 100,000 hours (or 96360 to be exact!) where we have grown accustomed to the conveniences and life luxuries which were easily accessible to us.
Let me count the ways in no particular order:
7-11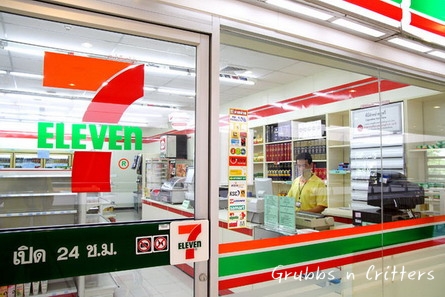 There's nothing not to like about 7-11. They are open 7 days a week, 24 hours a day and they are omnipresent all across the country. So omnipresent that in one street of Bangkok alone, one would be able to find two or even three of them along the same soi. Sometimes on the opposite side of the streets, sometimes on the same side of the streets.
This happens to be the place where the most basics of necessities can be purchased. Cheap. From food and snacks to mini-sewing kits, travel-sized toiletries and disposable raincoats as well as stationery, laundry detergents, both alcoholic and non-alcoholic beverages, cigarettes…just name it.
Need a bag of ice? Or batteries? How about paracetamol? Chances are, 7-11 carries it. Straws and plastic bags are free; one would be given a straw for every beverage bought and one plastic bag for every single item, each with different sizes. One can also pay for all sorts of bills here, too!
It also is a place where one can seek refuge from the heat for a little while as the air condition in most if not all 7-11s are on full-blast!
Massages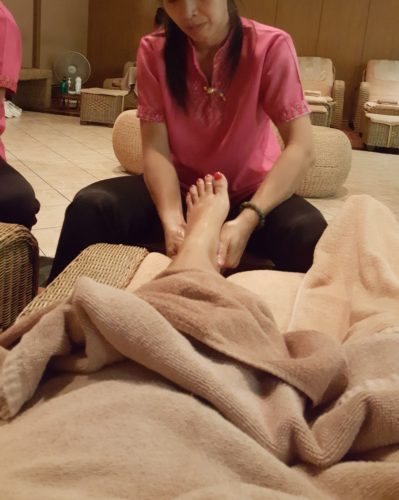 Like 7-11s, massage shops in Bangkok are as ubiquitous. From the local massage shops that offer great value to the high-end spas, one will never run out of options to soothe all those aches and pains from a very stressful day at work.
Regardless of the establishment, not all massages are created equal as we knew it to be since the experience varies with the masseuse. Still, I just love the fact that a no-nonsense "clean" massage place that didn't cost too much was only a stone's throw away from where I am.
Of course, I had some of my go-to favourites, with Dr Feet being the top of my list. While I had completely missed going to Dr Feet altogether due to time constraint before we left, we made sure that we treated ourselves to the one last massage the night before our departure.
That was probably one of the saddest time of the day that day. That one last foot massage felt nostalgic. Oh! How I love for my feet to be prodded and rubbed at this exact moment without costing me an arm and a leg!
Manicure and Pedicure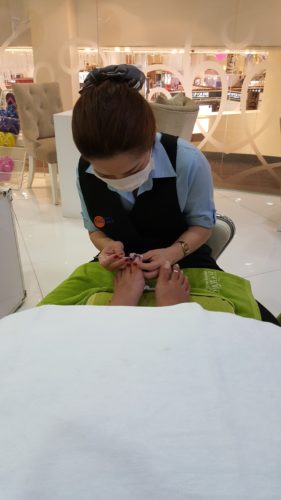 With no shortage of nail salons in Bangkok, there is absolutely no reason not to spare and hour or two every few weeks to get your feet scrubbed and your nails done. At very affordable prices too, may I add!
This was one luxury I miss a lot. Gone are those days when I can treat myself to such relaxation and coming out of the nail salon of my choice with pretty nails. Especially toenails.
Taxis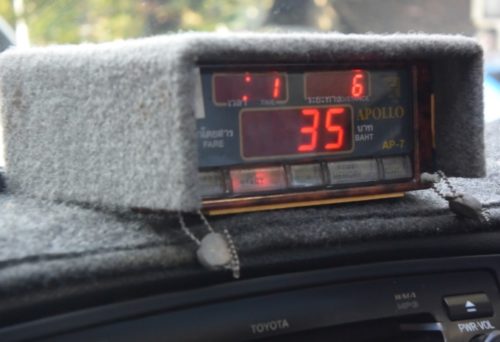 At 35 baht (0.90 Euro) flag rate and subsequent increase of 2 baht for every kilometre thereafter, I've been spoilt to really easy and cheap access to public transportation.
Never mind that taxi drivers can be a little mad sometimes and unless there's a bad traffic jam, I hardly ever walked anywhere anymore. Just stick out my hand, and I should be able to get a cab in no time. After all these years, even though there had been talks of increasing the flag rate (and I fully support that), the rate has remained at 35 baht
Otherwise, there was the BTS. With quick, convenient and affordable access to public transport, I was mobile and did not have to depend on anyone to get me from place to place.
Exotic Fruits
Longans, rambutans, mangosteens, mangoes and lychees! The season usually starts in May to round about August. The fruits can be bought fresh at a bargain from the street side stalls and oh.my.lord! Those fruits were ah.may.zing
Every year I look forward to the season of exotic fruits and every year I would post something pertaining to the fruit season. It was one of my favourite seasons!
Domestic Help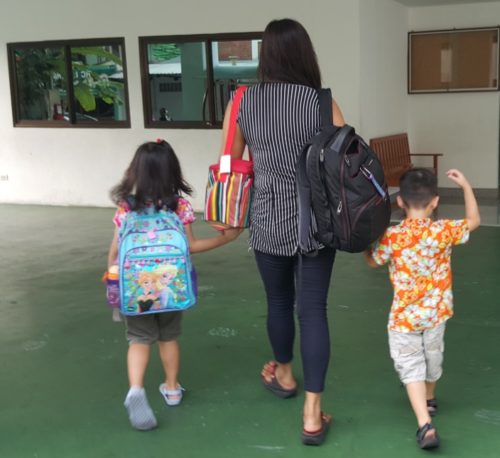 While finding "the one" can be a hit and miss, home help is generally inexpensive and is quite easy to come by.
It was a big load off our shoulders knowing that the chores in our home were taken care of. We only needed to make sure that we've got the supplies stocked up. We need not do the cleaning, vacuuming, ironing and whatnots ourselves!
Plus, having an extra pair of hands to help out with the kids was such a blessing. That was a great thing to have and I sorely missed that.
Having an office to go to!
Yes, I miss having an office to go to and people to interact with. I can't believe I'm actually saying this now, but I do miss my desk!
Mommy Friends & Kids' Activities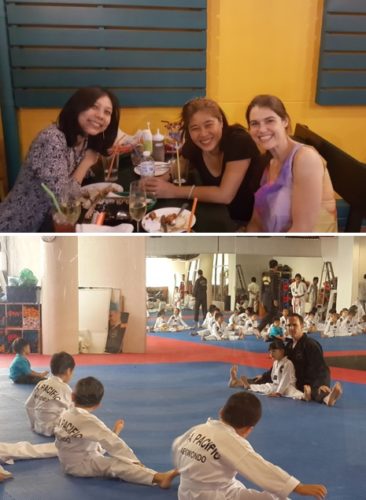 While expat mommy friends come and go all the time making it harder to forge some real friendship, the few expats moms I knew in Bangkok have been a fabulous lot!
The mommy-only meet ups, the occasional get-togethers on birthdays or just because, the weekend playdates…yes, I miss them all! From when I was pregnant to the time that we left, they've all been a big part of our lives.
And so were the extra-curricular activities like swimming and taekwondo for the kids. As much as they were for the kids and to keep them occupied, it was also one of those places where we'd meet and catch-up with other parents as well.
The Toilet Hose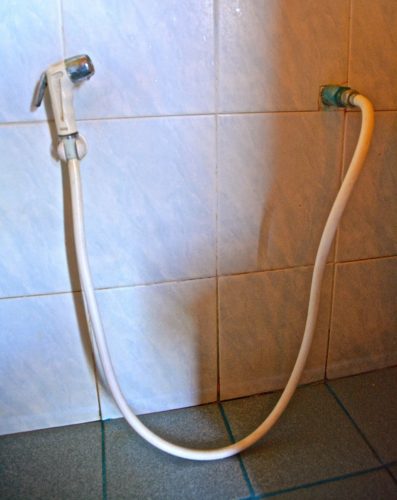 Also known as the butt spray and it's making to my list!
It's a small hose attached to the wall of all the toilets I know in Bangkok and at the end of the hose is a nozzle. The nozzle is used to spray your nether region clean (with water) after one is done with your small and big business. It's a nifty little thing!
The toilet paper will still be used, more so to dry oneself after nuzzling rather than using them to clean. With such hygiene in check, one would be feeling refreshed and all ready to face the world!
10. Gold Class Movie Theatre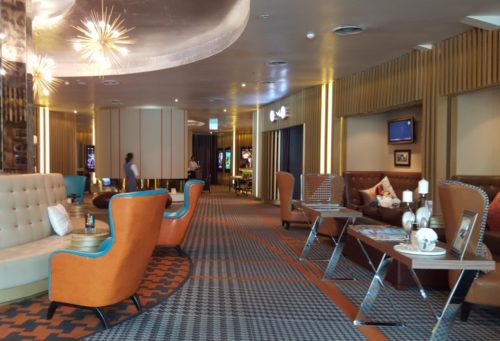 Nothing and I mean NOTHING could beat the fabulous movie theatre experience if one is willing to pay just a tad more for a luxurious sofa seat to lounge in while watching a 2-hour movie. In the theatre above located in Central Embassy, there was even a mini fridge next to us where all the beverages in there were free!
Not to mention we were given the privilege to use their special lounge where all the food and refreshments in there were laid out nicely for (free) consumption. It was insane!
So there! Those were the big things and I certainly have my list of things I don't miss, too! Stay tuned.
This post is also written in response to Stomper Dad's Taboo Challenge with no use of the words "you" for today's post. What are you waiting for? Join in the fun and add your link to take part in the challenge!