May 6, 2015
Today's Prompt: Free writing day. Write at least four-hundred words, and once you start typing, don't stop. No self-editing, no trash-talking, and no second guessing: just go. Bonus points if you tackle an idea you've been playing with but think is too silly to post about.
My feet ached. They throbbed like hell whenever they hit the ground running (or not!). They felt almost a  little numb and that probably resulted in 2.5 days of walking whilst we were in Prague just a few days ago. I swear I could feel my feet swelled up and when we got back in Holland, I thought that my other sneakers felt a little tighter than usual.
Boy! We walked. And we walked, and we walked and we walked and we walked our feet out. Then we walked some more. A hundred times over. We must have crossed the Charles Bridge more than 5 times, walking from the main square in downtown Prague and back again. Like I said, a hundred times over.
Oh! So many things to do and so many things to see. Prague surprised me in the way I would never have expected a former soviet country to function. Things seem efficient, customer services from restaurants were great (well, mostly!) and the city seemed well regulated. It is a very, extremely touristic place. Every where around town was littered with tourists from all over the world. There were also just too many guided tours to choose from and one would be spoilt for choice to choose from the many tours they provided. From a 1.5 hour tour around Prague to out of Prague tours – they have it all! Just be prepared to pay.
There were always petrol cars and policemen patrolling about and for some reason, I felt safe.
I hadn't bothered to investigate or research anything about Prague when Silver Bullet suggested we spent the weekend there. WITHOUT the kids. I just went along with it and thought that it was just one of those cities like Amsterdam.While I have heard about Prague and people saying how beautiful the place is, I virtually held little or no expectation about the place. Heck! I didn't even care which hotel we would be staying in and let Silver Bullet did the planning.
When my in-laws asked me what were our plans in Prague, I literally had to shrug my shoulders and told them we had no bloody clue. We'd just like to take it easy. I had a  "see-how-it-goes" attitude, and part of me was not too keen on another plane ride on a plane I have not flown with before.
It only took us 1 hour from Schipol Airport to Prague. And when we arrived in Prague, we pretty much dumped our luggage in the hotel and walked out of our room to explore the city almost immediately. This was when the unexpected distance of walking started. We walked  non-stop for hours on end.
With only the city map in our hands and no wifi, we navigated our way around and only to discover that there were probably a million other tourists in Prague that day. Every square inch of the city were filled with tourists . It was hard to separate tourist from the locals, although the Chinese, Indians, Germans, Dutch and Thai contingent did stand out just from the language we heard them spoke in.
I thought that the sight did look quite similar to Budapest, especially the scenery from the river and the bridge. And perhaps, that was all about it. I would not be able to give a fair comparison as I didn't spent a lot of time exploring Budapest as compared to how we explored Prague.Food-wise, there were many varieties. Goulash-wise, Hungarian Gouslash wins hand-down in my opinion as I certainly prefer the taste of Hungarian Goulash as compared to Czech's.
We did a few tours in our short 2.5 days in Prague and I'll certainly be writing more about them. Soon-ish. Hopefully my feet would feel better by then.  Stay tuned.
Meantime, here are some pictures from our weekend trip. Truly sights for sore eyes.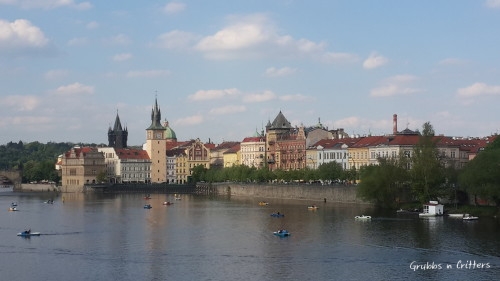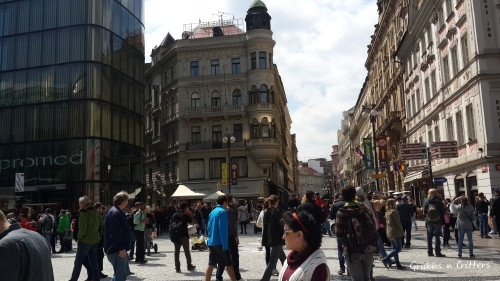 Word Count: 642
#BloggingU #Writing101