February 23, 2015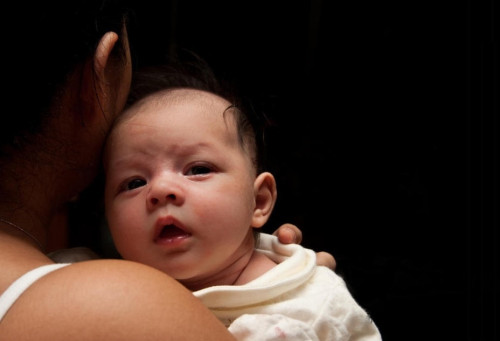 Memories in the early weeks of having a newborn is all, but hazy by now. The small details vague and the feelings I know I experienced seems quite distant now… benignly forgotten, and likely distorted by severe sleep deprivation, frustrations, fears and confusion while being in the moment.
It feels like a lifetime away, yet the above picture had triggered remnants of memories in my early days of motherhood, amidst tears and being "high" from fatigue, trying to figure it all out.
The "witching hours" I remember well. It lasted for weeks from 5 p.m to 7 p.m without fail and all I could do was walk Spud around the house as calmly as I could while humming "Yellow Submarine" over and over again. (Why Yellow Submarine by the Beatles I have no idea, but it was that one song that could calm her down during the witching hours).
Facing away from the camera was a new mother overwhelmed by emotions when her child finally stopped her incessant crying. The newborn,oblivious to the chaos she had caused earlier, finally was calmed enough for this shot to be still-framed.
My life is forever changed. The birth of a mother when a newborn was born into this world has indeed just begun.
In response to the Daily Post Weekly Photo Challenge Rule of Thirds