May 11, 2015
After almost 3 weeks basking in the fresh, cool air of Europe's temperatures below 15 °C, coming back to a soaring Bangkok heat of more than 35°C feels like a rude smack in the face. Yes. 35. Or sometimes 36 or 37…even 38. Not very nice!
Bangkok apparently went up to more than 41°C during most of those times whilst we were away, and I have to say that I'm glad we weren't there to experience the heat. 37 is already quite unbearable…what more beyond 40! Insane.
We have been quite lucky with the weather in Holland this time. Tulips were in season too! Sure it was a little cold when it got to below 10 and there were some days it rained or that the howling winds rattled every single window, threatening to blow the house or all us off away from the ground. Still, that beats the debilitating heat we have here.
Being away from Bangkok made me realise yet again how much I miss the fresh air…and after 3 days in Holland, I made another realisation: I stopped coughing altogether. I kid you not. I must have had this nasty cough going on for at least 2 months now, and even after medication (daily and several times a day!), the cough continued to persist.
It wasn't only me who showed such stark improvement with the cough, as even Squirt's persistent coughs died down. By quite a fair bit. I'm telling you, I'm convinced it is the air! I bet you can just feel that constant streams of fresh-air just from the pictures here: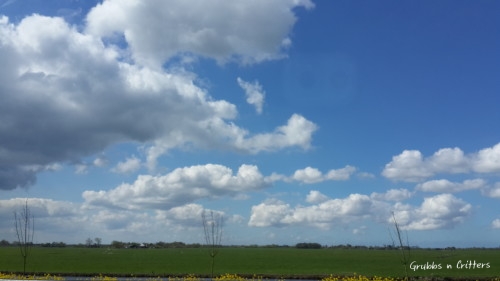 It isn't only the clean, fresh air that I missed, and now that we are back, I am also sorely missing the the orderly traffic, the reasonably-priced fresh groceries, the variety of kids' snacks and clothings for not too much money and most importantly, the deafening silence all around once dusk sets in…all the things which Bangkok isn't or doesn't have.
The kids had a ball of a time, and part of me felt that they actually showed a "different kind of happy". For the life of me, I can't quite pinpoint a "different kind of happy", but I felt it in their demeanor. There were mostly always laughing (either with or at each other), their appetite were bigger (I've been surprised at how much they could eat. Must be the cold) and they were happy to play indoor when the weather got too cold and just as happy to play outside even if we thought it was cold. They were also a little bit more easy going and generally a pleasure to be with, which made our lives a tad easier.
While each of them have had their own moments of crabbiness for sure, they were also easier to deal with. There were generally less crying and tantrums and perhaps, it's just because they are slightly older now and the fact that they have always been spoilt rotten by everyone around us. My in-laws' home had looked like a bomb had exploded.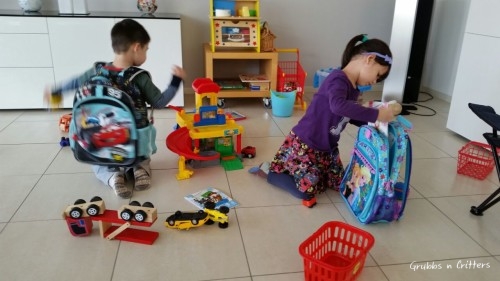 In fact, Spud did not want to come back. She said so herself. In her words, she wanted to "stay in Holland forever". Several times, she preferred to stay behind with her Oma and Opa when we wanted to take her out for visiting or do some groceries. Nope. No grocery shopping with Mama and Papa, yet this kid jumped at every opportunity to accompany her Oma to go do groceries! Cheeky kid.
I didn't manage to completely detox from the digital world with my Writing 101 course going on then, (excuse!excuse!), but I did manage to stave off my laptop for as much as I can and purposely going without WIFI even when there was the opportunity to. Hmmm…I should be proud of myself!
So now we are home! Kids are back in school, husband went in for work, while I had the grand ambition to pamper myself today and running errands since I still am yet due to go back to work. Unfortunately, I was down with food poisoning that started last night. My tummy has been more than a little crampy, I feel a little nauseous, my eyes are heavy and my damn ass is sore from all that sitting on the throne. I've pretty much been a write-off!
Luckily with Dissento, I felt slightly better towards the end of the day. And I'm telling you, this Dissento shit is a real miracle drug if you have food poisoning as within hours, you feel like an almost normal person again. It is available at any pharmacy is Thailand. It literally cost next to nothing and I was introduced to it when I had my first Bangkok food poisoning years ago. This is one thing I would not leave home without!
All that's been said, we all are still jet-lagged from the flight. The kids slept lousy for the first 2 nights and we have been a little more than just a wreck. Me having food poisoning doesn't help either and already, I have to be back at work tomorrow to face the world.
I almost wish I'm on permanent vacation. But, I'm back on and trying to get myself in gear for what's coming ahead , especially on the work front. Bleahhh.
Meantime, here's wishing you a good week ahead and I'll definitely be posting up stories from our little vacation from the last few weeks. But first. I'll have to catch little breather. Stay tuned.