January 16, 2014
My interest on Native Americans, otherwise known as the Red Indians, began when I was about 11 or 12 years old. I had discovered it by accident when I started immersing myself in the world of books. I vaguely recall the title of the book being "something" Navajo; a book which had unwittingly sucked me into the world of American Indians and fuelled my fascination surrounding all things Red Indians since.
By fifteen, I was collecting Dream Catchers, allowed myself to get supremely awed by the magnificent head gears adored by Indian Chiefs, got completely crazy over Lou Diamond Phillip and was completely obsessed with jewelry that typified those worn by the Native American Indians. By 18, I compulsively saved my coins to be able to buy myself T-shirts with an Indian Chief face on it (amongst other things!) and treating myself to some "authentic-looking" piece of Native American jewelry once in a while.
There is, however, one particular piece of jewelry that had remained a treasure to me till today. There is nothing special about it other than the fact that I thought that it has a very unique design and that I love it so much. .It is a simple brass ring, but elegantly shaped for a rebel at heart; something that befits me. It is filled with small pieces of broken turquoise – turquoise being a trademark of the Native Indians – and broken pieces of red stones which I am still completely clueless about its origin.
The ring cost me about 30 Singapore Dollars (pretty expensive for a student at that time!) and I remember that there were only 2 left when I laid my eyes on it. I also remember that it was painful to part with 30 dollars all at once, but because it was pure love at the first sight, I succumbed to my innermost desire of parting with my hard-earned money from my part-time job to buy me the ring. It was to become a permanent accessory I was to wear for a good decade of my life till it was all bent up out of shape. I had to finally take it off my finger during my first pregnancy because my fingers have grown so fat that I could not slip it in anymore.
This is what it looks like: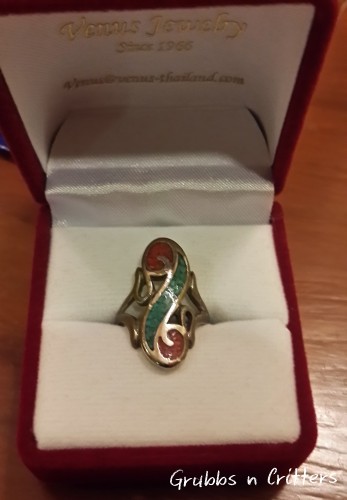 I have spent a good few years trying to find a replacement for it, but could not find any that was remotely close to the design; let alone one that bears any resemblance to the colours and stones the ring adorn. With a very heavy heart, I put the ring away – in the hope that one fine day, I would be able to find one close enough for a replacement. I didn't have the heart to toss the ring away.
The ring has somewhat been forgotten for a while now and in all honestly, I have actually lost hope of ever finding me a replacement. Enter Silver Bullet.
After spending a couple of hours in the kitchen making me a rather delightful dinner of cheese and spinach ravioli, accompanied by beef Carpaccio as the appetizer as my advance birthday celebration (I had to be away for a work-trip on my birthday), Silver Bullet surprised me with this: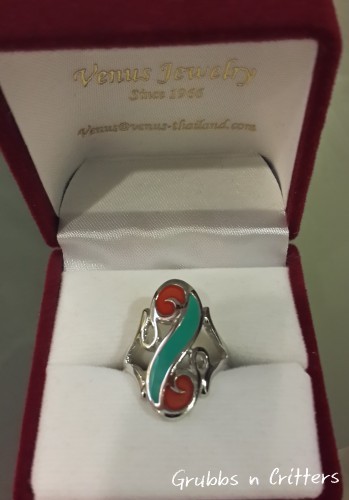 Something I would not have expected in a million years! Turns out that my man has been quite the resourceful little dude! He had, without me having an inkling of what he was up to, scouted around for a jeweler that specialized in custom-made copy, took my old ring as a sample and commissioned for it to be made (ahem! I mean copied) locally, using white gold as the casing.
To say I was surprised was a little bit of an understatement. I am actually quite floored; not to mention completely impressed with the feat that he pulled. The replication is almost uncanny when I put them side by side and while it may not look exactly the same (the use of coloured stones being the main heart and soul of the ring), it is indeed a very treasured replica for me. Silver Bullet confessed that he did think of extracting the stones from my old ring to have it set into the new one, but he wasn't sure if it was something he should do, in case the whole thing turned out to be a disaster.
That being said, knowing now that making such replicas is possible in this country, I am all for the idea of completely destroying the old ring to extract the stones out and have them set into this new ring.
Oh boy! Am I on cloud 9! The thought of Silver Bullet scouring such things for me just because he wanted to had never crossed my mind, and even without the coloured stones, I still love, love, love my ring.
I think I have got the bestest husband. Ever.
The ring may not have been made out of diamond, the ravioli may have been ruined (by Silver Bullet's admission), and I don't usually care much about my own birthday celebration, but this really has got to be one of the est surprises ever dished out to me. I feel very blessed.
This ring is now a notch up to being extra-special in my books. Did I ever mention that I have got the bestest husband yet?