July 1, 2015
You know how sometimes you get so, so very overwhelmed with things and thanks to Murphy's law, you feel like your universe just spun out of control while you try with all your might to put up a brave front, convincing yourself that things will be OK?
That was me last week. A washed-out wreck with unabashed bravado. Squirt resetting my phone was the icing on the cake – a likely result from latent fury. But, those are stuff of things…inconvenient triggers. They come and they go and in the end, it is the littlest things or moments that matters. Meaningful moments that add smiles to your lips, music to your soul  and  life to your years,
For, the few little things and moments that happened in the last few days, these were the moments that matter and things I'm thankful for as I count my blessings:
1. Spud being called out from the crowd unexpectedly by her Taekwondo Master and he proceeded with a test for her to get that last stripe on her white belt. A stripe she's been waiting for. A stripe that made her sooo happy as it's a promise of progress to move to the next level and getting a half-yellow belt. Seeing her beam with pride was priceless.
2. Squirt trying out for a no-parent swimming class. No crying, no whining, no cajoling required and so full of confidence. Another milestone for us parents to "let-go" as we leave him in the good hands of his very capable swimming instructor while we watch from the side. For him, another step towards independence. (I'm not so sure I'm ready for this!!)
3. Me receiving a note from World of Moms telling me that my post has been featured in their Blogger Special space last Friday. While I saw the tweet (and retweeted), I had no idea it was called out as a "special", thinking instead that it was just a repeat tweet. I only saw the email on Sunday (or was it Saturday?)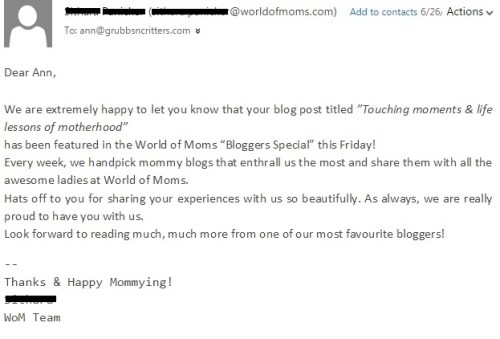 4. Getting call outs from:
April:  Author of Diaper and Tutu on her Everyday Mom Link-Up event  for my Hugs & Kisses post,
Eric: Author of All in Dad's Work (he was responding to a Liebster and has very kindly extended his nomination to everyone reading his post. So please head over there!)
And as I have just realised, a nice little mention by lovely, lovely Jas, a new-found, awesome bloggy friend, author of All That's Jas who has linked my crazy, lunatic weekend live-dragon-moment in her Pepper Soup post.
[My pingbacks have gone wonky of late and unless I read through the posts or being informed directly, I would have no idea I have been linked up.]
5. Meeting up with an old friend and an ex-colleague, Deer and talking about nothing and everything over an hour lunch. Her selfless, big gesture and kind words that came out of nowhere to connect me up with people who may be able to take me to places for my future self just blew me away!
6. Finally managed to call my BFF of x-2 years and having an hour conversation with her after months of hiatus. We picked up where we left off and it's like we've never been apart!
7. Having a geek for a husband to help with all the technical woes; things I don't have the patience (or brains) for. His unrelenting support with the kids and patience with me, when I've been an exhausted wreck or just not being around because I had to work late or travel on business has been a great crutch to our family's support system.
8. This has got to be the most endearing highlights for me when I had unexpectedly received a text message from one of my mommy-friends in crime. Words so kind..so genuine that left me a little dumb-founded and quite choked up.
Oh! My heart is full. For all the annoying, "assholic" (if there's such a word!), irritating moments, these really are the moments to be treasured and worth living for. I may not have hundreds of followers on my stat-counts but I feel rich and feeling like my life has been mightily blessed. 🙂
While writing this, I'm being reminded of a quote I happened to chance upon while reading an in-flight magazine months back. It's a beautiful quote and a perfect one to not only complement this post, but also in response to TFB's 3 Day POST A QUOTE Challenge:
Thank you Kat for extending the challenge!  The rules are simple – one quote a day for three days. They can be your quotes, or quotes from other people. Post one a day for three days and nominate three bloggers per post. Also, thank the person that nominated you.
Ah! I just killed 2 birds with 1 stone there. I think I'll make it 3 with my 3 nominees whom I have mentioned above in #4 for convenience: April – Author of Diaper and Tutu, Eric- Author of All in Dad's Work  and Jas – Author of All That Jas.
It's a world of pixie dust and here's to more blessings to count as we're ushered into the very first day of July!