October 16, 2017
Distance covered: 3,500+ km
Driving hours: 47+
Borders crossed: 6x
Countries covered: 5
Car-sick Casualty: 2 kids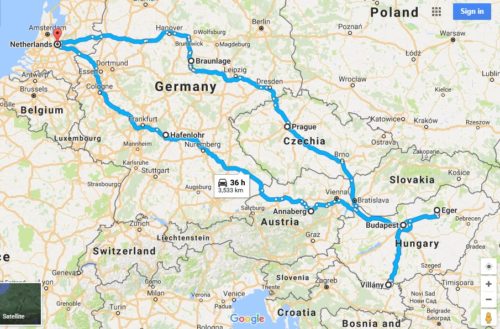 That was our summer just a couple of months ago. The map above pretty much highlights the route we took driving from home and across some parts of Europe , then back to our doorstep.
We thought that going for a road trip with 2 young kids in tow to Hungary with Budapest as our key destination where we would be spending most of our time was a very good idea.
Have we gone mad?
Probably! Especially since Silver Bullet is the only legit driver in the family and lugging around 2 fidgety kids, strapped in the car for hours (!) would just be courting trouble.
As crazy as it sounded initially, the idea made sense. We NEEDED a holiday.
With 2 kids and now living life not on an expat package, air travels can get quite costly (on economy class, mind you!). And that's only for travelling in Europe. Add international travel into the picture, we can forget about travelling to Asia altogether since air tickets could get prohibitively expensive.
Thus!
The road trip was the only logical thing to do. It IS the most economical way to travel around in Europe. And when you are in Europe, it is so easy to travel when you have a car.
Drive on and you'll be crossing the border to the next country soon enough. Just watch out for crazy drivers. Or cranky kids.
The map did say the journey took 36 hours. But that's just Google estimating hours without traffic and assuming you drive straight through. In reality, we traveled closer to 50 hours. We took our time to get to Budapest.
Along the way, we planned for a night or 2 in the different cities of the countries we passed through.
We made sure we broke up the journey into smaller trips in between countries with no more than 5 hours of driving. We made multiple stops along the way and drove at leisure. We were in no hurry.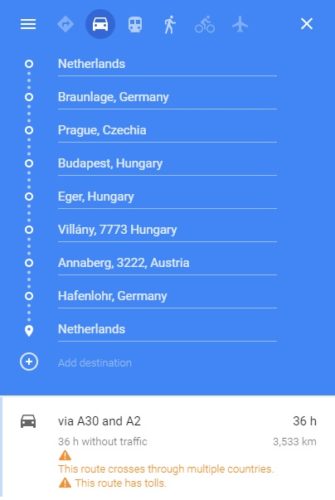 I must confess that I have absolutely nothing to do with the planning of this trip.
At that time, my head was too full with work-related stress, the pressure of time and my driving lessons to even have the strength to puzzle the hows and the wheres. I was not up for it.
With great faith, I left it all to Silver Bullet to figure it all out. He did well; perhaps better than I would because, if it was up to me, I probably would not even have a plan to book for a place to stay for the night while we were en route! I'll probably just say let's wing it.(Actually, I did suggest it. He refused to comply to his credit)
We almost, almost did turn back 1.5 hours into the drive after we left home. Spud got horribly sick. Not just car sick, but sick-sick. Projectile vomiting, fever, stomach-bug sick.
And if you know Spud, sick and strapped-up in the car Spud equals screaming equals T.R.O.U.B.L.E. That was that.
THAT suddenly sent us both in a huge hurry. We needed to stop somewhere. We needed to stay calm. We needed to clean up. We needed to regroup and rethink. Most of all, we cannot and will not have a a screaming sick child at the back of the car for the next 18 hours drive to Hungary!
It almost spelled "Holiday: Game Over!"
More of our stories to come – Day 1: Netherlands to Germany