December 14, 2015
Look closely in the picture below. Can you spot a camouflage of something that perhaps is not supposed to be in there?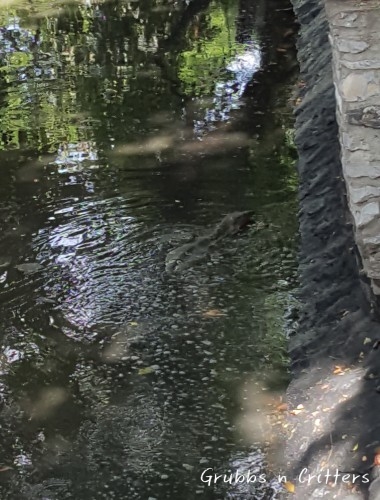 Did you see it?
First thing first, this canal is filthy! It probably is the most toxic canal I have ever encountered. The water is murky and greasy. It stinks to high heavens and also acts as some sort of a sewerage system that is not being managed like it should. The entire canal runs behind my office that stretches for a good 2-3 kilometers in length with no side barriers. If you fall into it, that's that. I happen to believe that if you were to throw a lighted cigarette butt in it, the entire canal will explode – that's how rancid the water is.
In the most bizarre of situation, mobile food carts and food stalls surround the entire area for the lunch crowd. We eat around there some times. Go figure.
In that picture is actually a massive monitor lizard. It was easily about 3-4 meters in length, and was happily swimming around the filthy canal. I didn't even see it until a colleague pointed it out to me while we were walking towards a nearby food market. It was a fascinating sight and I couldn't help but wonder if the monitor lizard is suicidal or just the fact that it was probably just as toxic.
Either way, I did not want to find out. I was just amazed that to find any living thing in there at all, and one that was really massive.Wonder where the fella was headed to.
No, you wouldn't want to fall into that canal. Covering your nose while you pass by this canal to make your way to the nearest food corner is highly recommended. Welcome to Thailand!