September 18, 2017
How slow is slow?
With only 8 posts published in August and almost a month of hiatus with no post at all since September came 3 weeks ago, I'd say that this has been extraordinarily slow-going.
The number of posts published has been nothing but pathetic. Granted, this has been my slowest-going period ever recorded in my blogging history. No recipes. No Sunday funnies. Na-da.
Nope. I have not fall off from the face of the earth.
Yet.
Nothing major happened either. It's the usual rumble of "we got busy" excuse. Only this time, the proportion of busyness was just epic: the kids have been on a looooooong summer vacation, I got sucked into the vacuum of work, we took time off on a road-trip for a family vacation and recently, I started going to school for my weekly Dutch lessons while trying to squeeze some time for my weekly driving lessons amongst other things.
Like wanting to watch TV and catch up on some reading about life.
Urrrghhh! Too much. How did life get so hectic? I'd love to be bored for just a day.
With all the on-goings, I then decided to do one thing when we went for our much needed vacation: I went on a (semi) digital detox. No emails, no blogging. Just the occasional social media postings and moseying around when I feel like it. Nothing too excessive on the digital front.
At the same time, as much as I missed blogging, my desire for blogging has been on inertia. My writing brain has been really slow to engage. My guess is that the digital detox has worked really well!
That said, I logged into wordpress today (forgetting my password) and came face-to-face with an announcement that dated back from a week or 2 ago: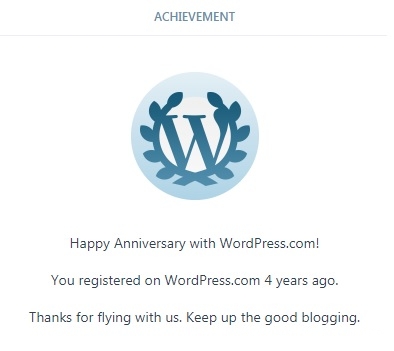 I'm reminded that blogging has always been my happy place. And yes, I should continue to keep it up though finding the time to these days has been a real challenge for me. Most evenings, I have got no more brain space. I think I may have caught the dumb.
Then again, perhaps this is how I should roll: post less. Much less. Because today, I noticed that my subscribers have gone up to 260. That's 10 more than I remembered about a month ago! How?! (thank you, bloggy friends!)
All that rambling and I have forgotten 1 thing. I forgot to ask how are all of you doing! Of course I would know had I visited you and because I haven't gone around in ages, you just have to tell me and leave me your comments. I hope life has been good to you.
And if you have read this far, thank you for still being here. There'll be more post and stories to come for sure; it's just a matter of when (my dumb will desist to exist)
Ahhh..yes! The food, recipes and funnies should be back too.
Till then, I'll leave you with one of my favourite photos from our trip last month: