February 18, 2015
My site has gone a little wonky in the last few days with really sloooooooooooooowwwwww loading time and it was almost impossible to do anything on my site. Just logging in took more than 5 minutes, and it was a matter of time before I gave up trying and I contacted my site host.
1 email and barely 2 minutes later, Vodien confirmed that there has been an on-going loading issue that has yet to be resolved on their end, and offered to migrate my site to a different server. They started the migration quite quickly upon my confirmation and within 12 hours, my site is up and running again. I have, so far, been really impressed with their support services – always swift, responsive and really genuine in offering their support. Thank you, Vodien!
The server issue resulted in me having a little blogging withdrawal, and, as annoying as it was not being able to do anything about it, having no productive access to my blog in the last 48 hours did me some good. It gave me some downtime from focusing on my own site and turned me into a Guest Blogger!
In that span of time, I managed to write 2 posts for 2 other bloggers; something that I have really been wanting to get down to but somehow could not get my act together. Server downtime? Not a bad deal at all! At least I got some of my shit together.
I had a pleasant surprise this morning when I found out that Yuliya from Tiny Expats has kindly posted up my writing on her blog – it had seemed only hours since I sent her my word document, and truly wasn't expecting it to be published at all, at least not so soon.
So here's a big, fat THANK YOU to Yuliya for posting up my thoughts on raising kids in a foreign land – a topic close to her (and my) heart. Do check out her blog for more eye-opening expat stories.
Meantime, below is an excerpt of the article I wrote on my attempt at Guest Blogging: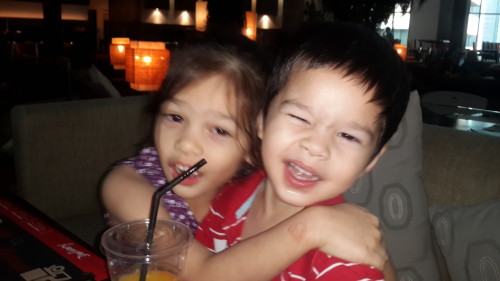 Both my kids were born in Bangkok. Apart from the occasional visits back to The Netherlands or Singapore, they know not of any other places that is home. To them, Bangkok is home and the rented apartment we live in is home-home to them; the only one they know.

Technically speaking, despite being born here, Bangkok is not actually their native home. Their parents came from not only different countries, but are indeed culturally different and have, for almost a decade been living in a totally different country that has a completely different culture altogether.

Talk about being culturally confused!

Wherein other expats would be worried about their kids' assimilation to a new country when they move from their native home-base, I worry about them assimilating to the countries where their original homes should be if we ever settle in our own homeland in either The Netherlands or Singapore permanently. More so in Singapore, given my culturally complicated background.

That being said, I'm not even sure if I would consider them as 3rd culture kids as we haven't been moving around too much.

You can read more on my Lament of Raising Kids in a World of People's Culture on Tiny Expats' site.