October 17, 2013
The weather hasn't been too kind in the last few days. Rain was pouring down in bucket loads every morning, flooding some of the sois nearby.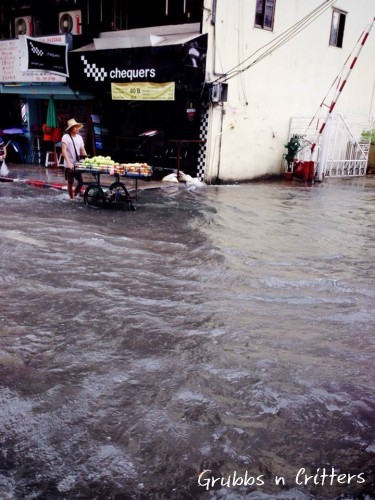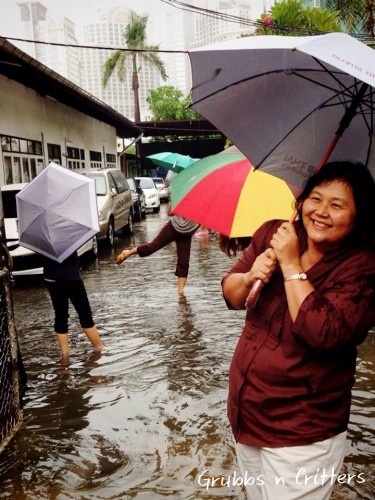 With Silver Bullet away for the 2nd straight working week, I had no choice but to walk the rain for several mornings in a row with Spud. By the time I dropped Spud off, I was soaking wet and, by the time I walked myself to the office, I'll be looking like a drowned rat even though I had my brolly with me.
These past 2 weeks haven't really been the most stress-free time. With work piling up on my plate and the added pressures of being short-staffed as well as having to attend a 2-day compulsory company workshop (scheduled on a Friday AND half a Saturday!) which I cannot get out of, plus the fact that I have been completely on my own to prep-up the kids every morning  and then stressing myself out to get home in time to put the kids to bed as Silver Bullet is not around; and then prepping up again for the next day so the kids won't starve or go naked AND  trying to do some work after the kids are in bed…I feel like I was about to go mad.
I feel like a complete wreck by the end of the day and, the rain not letting up means that traffic is just not going anywhere. That means, travelling time is greatly increased by a hundred-fold. Just another set of inconvenience I don't need.
So yeah, it has been a little bit of a challenge to cope with everything on my own for two straight weeks now. And while I am aware that Silver Bullet is in no way at fault for having to go on a business trip, I can't help but feel pretty wretched trying to sort everything out by myself, and at times feeling that I just don't feel appreciated enough. I guess a common sentiment every mother would feel every now and then.
The only consolation is that the kids have been kind to me these 2 weeks. With the exception of just ONE morning when Spud pushed a little and I lost it, (My bad, really. It really wasn't so bad, but I screamed at her because I was exhausted. I could really have handled the situation better), the rest of the days, so far, have been a breeze. In fact, they have been so very well-behaved that I have been completely awed.
Suddenly, they seemed like THE model kids. There have been no temper tantrums, they are happy, Spud has been listening really well and getting the both of them ready in the morning has been a relatively easy task, with breakfast over and done with within 15 or 20 minutes! Amazeballs!
That being said, I probably have just jinxed everything, with the next major meltdown lurking round the corner soon-ish.
I might have been feeling exhausted, high-strung and even downright resentful throughout the entire week, but seeing the energy, vigour and smiles on the faces of my children reminded me that there's something to be grateful about.
And whilst the thought of having to walk a few kilometers in the pouring rain with a 3-year old toddler is really daunting and something I truly dread in the next few days, Spud on the other hand doesn't seem to mind it too much. In fact, she loves the walk-in-the-rain experience, welcomes it and becomes pretty excited that she gets to wear her 20-baht raincoat.
Rain or no rain, sometimes, looking from a 3-year old perspective does help turn things around. I should try to always remember that.