December 24, 2013
The last weekend had me sacrificing precious family time yet again as my company decided to organize their Annual Goal session over the weekend. Needless to say, I really wasn't too pleased when I found about that – simply because I happen to think that weekends are meant for family, and unless it is a matter of life and death, anything that is related to work should be limited to the weekdays. I genuinely felt that weekends are sacred especially for those with family and small kids, and that, for a start, private time during the weekends should be respected.
The only saving grace was that the management agreed to accommodate family members to come along; a nice gesture on their part to mitigate any resentment towards their decision. We were actually quite apprehensive on having to drag two little kids along, as this was something we haven't done before. Besides, given that I have to spend most of my time away from them anyway making it almost impossible to have a meaningful family time, going away for a short weekend and disrupting the kids' routine didn't seem like a very good idea!
However, despite our apprehension, we thought that we should give it a shot to see how the kids take to a weekend away experiment for just one night.
I only managed to get to my room after dinner at about 10-ish and while it was a big enough room to accommodate the four of us, it was less than ideal. It took every ounce of patience in me not to flip when I realized that they had put me up in another resort that was easily a good 4 km away from the main activity area AND far away from everyone else and that the room was accessible only by a shuttle service. What was more concerning was that the room I got was perched up at least 2 meters high near rocks of breakwater – with no visible barriers surrounding the room. It would be a nice, romantic scenery that overlooks the sea for a lovey-dovey couple  to catch the waves come crashing down on the balcony, but a rather scary thought for a parent totting around 2 kids who could never sit still!
It all didn't make sense to me and I was shameless enough to request for a room change that very night. Luckily for me, a colleague was willing to give up his room for us the next day and I was forever grateful for the gesture.
The Sunset Resort and Spa turned out to be a rather pleasant little resort for  family. The entire area was mainly car-free and the room was cosy and comfortable. It was a new experience for the kids to be at the beach and while Spud could not get enough of playing in the sand, Squirt hasn't showed the slightest liking to the sensation of sand on his bare feet. He actually got scared of the waves on the beach and was clingy for most of the time.  The kids do seem to enjoy the little getaway as did us. For us, it was comforting to discover that they generally had no problems adapting to their sleeping arrangements at night, succumbing to the sleep fairies within minutes of putting them in their designated beds. For Silver Bullet who had to tuck them in at night as I had other work-related obligation in the evening post-dinner, it was a big relief!
While I am hoping that a weekend work trip is not going to be the norm, having the kids with us last weekend had actually give us more confidence to explore a weekend resort trip with the kids. It also goes to show that kids can really be adaptable and perhaps we, parents, sometimes really do worry unnecessarily!
All in all, our very first somewhat independent weekend trip away from Bangkok had been a very successful operation. Minus my  work-related obligations, we have been pleasantly surprised by how the kids took to everything in their stride. Very promising ,indeed.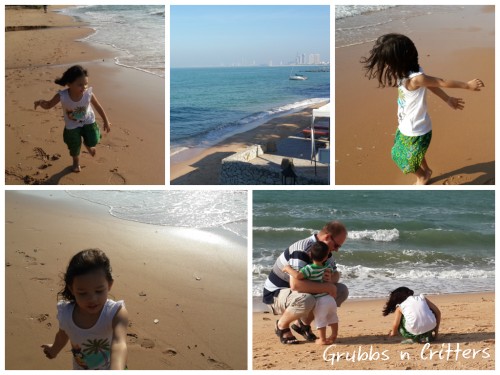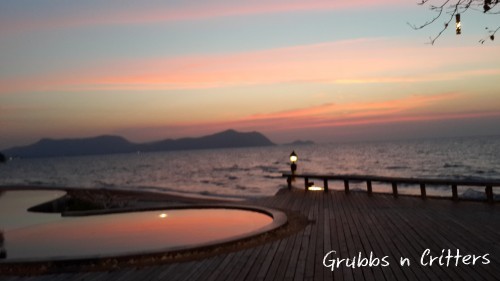 And the weather whilst we were there…
… happened to be rather chilly!