February 2, 2018
Who is up for some creamy, flavourful and oh-so-good risotto that would make you go weak in the knees? Luckily for you readers, that's exactly the theme we have for this month's mystery munchies: a good-great risotto dish.
Now, I've always thought that risotto is a bit of a pain to make – but turns out that this recipe which Silver Bullet concocted is pretty easy to do. He has combined the basic "risotto bianco" recipe from Jamie Oliver with some ingredients from another risotto recipe he found on Jul's Kitchen.
It's also a pretty dynamic dish since it can be served in various ways. Who'd have thought mixing artichoke and goat cheese to a celery-based base can be so good?
So so good such that this now become our family's favourite!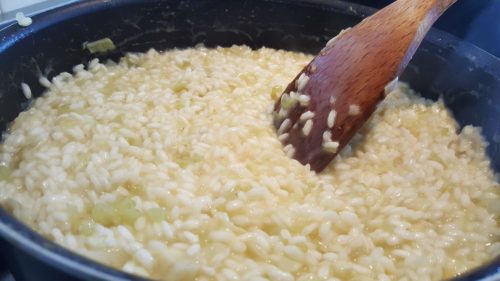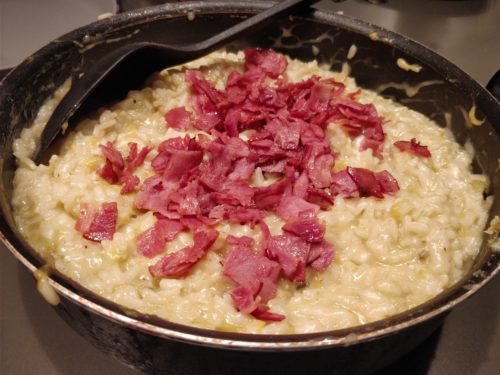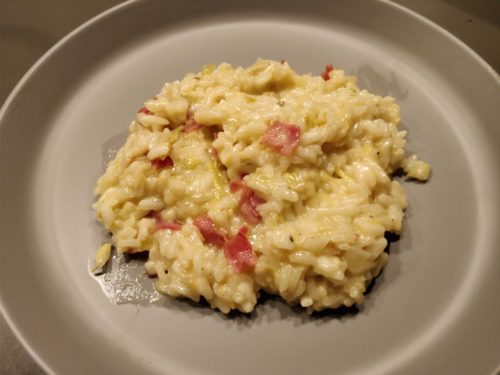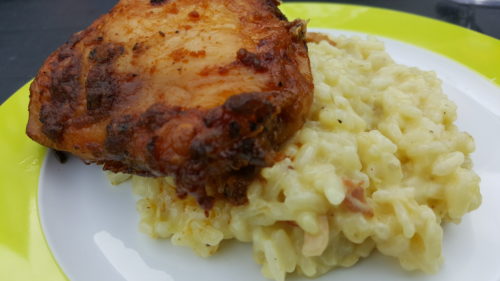 The only thing about making risotto is that you have to pay attention to the stirring and mixing of the broth which has to be done continuously. That means you'll be on your feet for a good half an hour (at least!).
Then you decide it if you want to serve this as it is, or add some other stuff to it on the side. You know..like a piece of fried chicken or turkey bacon…or pieces of veal, perhaps?
Here's the secret recipe (I have to kill you if you ever share this with anyone else! :p):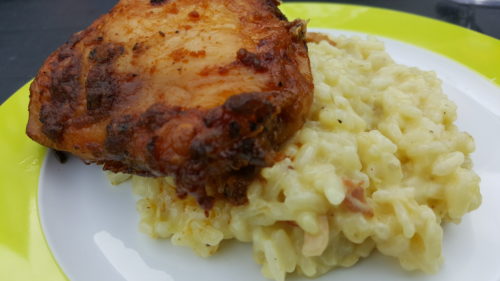 Artichoke and Goat Cheese Risotto
2018-01-14 04:49:55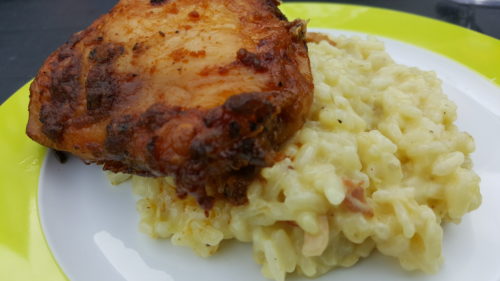 Serves 4
Elegant comfort food that's classic, creamy and rich guaranteed to lift your spirits.Vegetarian friendly recipe.
Ingredients
1.1 litres organic stock , such as chicken, fish, vegetable
1 large onion
2 cloves of garlic
2 to 3 sticks of celery
90 g Parmesan cheese
50 g Goat cheese
4 to 5 artichoke hearts
2 tablespoons olive oil
4 tablespoons unsalted butter
400 g risotto rice
2 wine glasses of dry white vermouth (dry Martini or Noilly Prat) or dry white wine
Instructions
Heat up the stock (you can use basic stock cubes) and leave this on a low heat to keep it warm
Finely chop the onion, garlic and celery. Chop the artichokes and keep separate. Finely grate the parmesan cheese.
In a separate pan, heat up the oil and butter. Fry the onions, garlic and celery over a low heat for about 5 minutes until the onions start to turn translucent (make sure they don't color. Add the artichokes and keep frying over a low heat until the artichokes are softened.
Increase the heat and add the rice. Keep stirring until the rice turns slightly translucent (1 or 2 minutes). At this point add the wine or vermouth to the pan. Keep stirring until the wine has been cooked into the rice.
Add your first ladle of stock and a good pinch of salt, then turn down the heat. Keep stirring until the stock is absorbed by the rice. Keep stirring and adding the stock one ladle at a time, allowing each ladleful to be absorbed before adding the next. You can't really walk away at this point, you have to keep stirring to ensure the rice is cooked slowly and evenly in the stock, allowing the starch to come out and create this creamy texture.
Keep doing this until the rice is cooked al dente (it should still have a slight bite to it). This can take anywhere from 15 to about 30 minutes depending on the heat and the type of rice. If you run out of stock, add some boiling water. Make sure it's properly seasoned.
Remove the pan from the heat and add the remaining butter, parmesan cheese, and crumble the goat cheese on top. Give it a good stir to allow the butter and cheese to melt into the rice. Now place a lid on the pan and leave for a few minutes to get the really creamy texture that makes a risotto so wonderful. Serve immediately while it's still hot and creamy.
If you like you can sprinkle on some sliced chicken ham, turkey bacon, or some other sliced meat, just before serving
Notes
For a vegetarian-friendly risotto, replace the chicken stock with vegetable stock instead and leave out all the meat. Do not leave out the celery, for it is one of the key ingredients that brings out the taste of the risotto.
Adapted from Jamie Oliver and Jul's Kitchen
Grubbs n Critters https://grubbsncritters.com/
The only problem with this risotto was that it was gone too soon. I mean the whole pan of risotto was gone at one sitting. ONE sitting! No left-over or whatsoever. We had seconds and third helping. The kids loved it!
Remember that a good risotto is a labor of love, and while not difficult, does take some care and attention to cook properly. Once you have started to cook the rice you do have to keep a close eye on the dish and keep stirring in that lovely stock until the rice is properly cooked. But I promise you, it's worth the effort!
This has once again been a wonderful discovery in the world of risotto. I bet you that Gen would double the pleasure with her creation for this month. Let's pop over to check what's risotto-ing at Gen's #32 Monthly Mystery Munchies that's made with this crazy, little twist.
==========================================
Monthly Mystery Munchies features every first Friday of the month in collaboration with Gen, Author of Eat, Play, Clove. Stay tuned with next month's edition from the Grubbs 'n Critters' Kitchen!