October 5, 2013
Literally translated as:
Mee Hoon – a type of rice noodle, otherwise known as vermicelli. While mee is usually understood as noodles, I have no idea where "hoon" came about. My best uneducated guess would be some guy by the name of "Hoon" probably invented it and named the noodles after him.
Goreng – Fried (or to fry)
The final product looks something like this: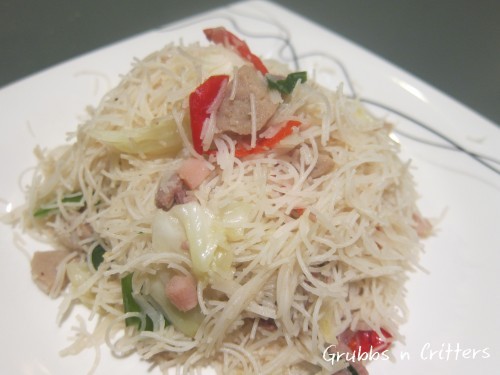 This is quite the typical Singaporean-Malaysian dish. It is one that I can't get enough of and I seem to recall ever eating the dish only when visiting someone's home for a house party. Although it might be sold commercially at food stalls and hawker centres, I rarely found them as appetizing as those that are served at someone's home party. Not sure why that was!
I guess that's the beauty of a simple and uncomplicated home-made food. Here's the recipe which I have modified to suit the needs of my family, and one which does not include the use of any seafood. The original recipes include prawns, squids and fishballs
Mee Hoon Goreng Putih
2015-07-13 14:50:11
Ingredients
2 cm ginger
5-6 pieces of medium-sized shallots
3 pieces garlic
1 pack of mee hoon (vermicelli)
200g-300g beef (sliced thin)
50g beef balls (quartered)
2-2 pieces of smoked turkey, sliced thin
1 tbsp white pepper powder
2 tbsp oyster sauce
2 tbsp light soy sauce
red chillies, sliced
A handful of spinach or bakchoys (cut-up)
A handful of fried shallots
2 tbsp of olive oil
Instructions
Blend ginger, shallots and garlic together. Set aside
Boil sliced beef to tenderize, and set aside.
Soften the vermicelli in water, drain and then set aside.
Heat up oil and when it's hot enough, fry the blended ingredients till fragrant
Add oyster sauce, light soy sauce and white pepper. Stir fry for about 3-5 minutes and add in the beef balls (if used) along with the boiled sliced beef.
If using prawns, squid or fishballs as per most original recipe, you can add that too at this stage
Once cooked, add in the vegetables and vermicelli
Stir them altogether for 5 minutes and mix well
Serve hot and top the red chillies and fried shallots as decoration
Grubbs n Critters https://grubbsncritters.com/
Bon appetite!