June 25, 2016
Summer is officially upon us since a few days back yet the weather has been nothing but unpredictable in the last few days. If I remember it right, it actually rained like the whole frigging day on the first day of summer.
Then it started pouring quite a lot but because I have always loved the rain and as long as I'm indoors, I don't mind it at all. It's also a nice weather for a nice cup of hot chocolate and cuddling up with the cats. I mean kids.
There have also been days when the weather changed from rain to shine every 5 minutes. That happened for a couple of days in the entire afternoon and the radical indecisiveness of Mother Nature got me a little confused.
They say it's a very typical Dutch weather.
It makes it hard to plan if I should take the kids out or stay home. Especially when my weather app said that it was going to be cloudy and cold for the day.
The kids must have thought I'm crazy because I keep changing my mind every 5 minutes. I thought I have gone a little bi-polar.
But at night…the nights have been pretty interesting for sky watching.
Every now and then the usually clear sky is filled with grey, fluffy clouds that are just ready to hose the land down.
Few evenings back, I caught sight of a large mass of clouds moving in its languid slow motion. Every move came with a 5-second pause before the mass moved again and then paused for a little more.
As I stood under the sky, I felt like the entire earth had moved along with the clouds. It was kind of giddy. And cool. It makes me feel like a mountain tortoise**.
Despite the cloud-filled sky, the sight continues to be fascinating with the presence of a near-full moon in the last few evenings.
Stars or no stars, I'm loving what I see in the chilly nights. It makes me want to wake the kids up so they can come join me to stare at the beautiful sky (but doing that would not be the smartest thing to do after almost midnight so I desist. Maybe when they are a little older).
Despite the cold , windy nights standing in the backyard to catch that gradual change of colours in the sky as the moon make its appearance, it was worth it because…
It's a sight I don't always get the chance to appreciate before…
…a sight that just fills me up with a sense of inner peace…
…and a sight I could stare at for hours.
These photos taken from my phone don't do justice but for me, they are just too precious to ignore. And it always make me feel a little sentimental.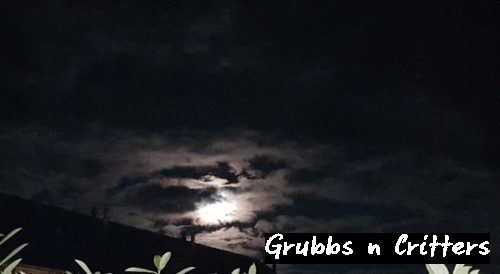 **Mountain Tortoise is a slang for country bumpkin and someone who is not very well informed, otherwise termed as Suaku in Hokkien