July 20, 2017
This came in the mail a couple of days ago and only today had I open the little package, coming face-to-face with this:
We bought it about a month ago for €10. It's my favourite nail polish colour. Yet I feel torn about it…because my heart weeps as I held the small bottle in my hand.
This looks like any other ordinary lak (lacquer or polish) but the story behind it was an extraordinary one.
Sometime in December last year, a 6-year old Dutch boy by the name Tijn created this nail polish challenge. It was a part of his bucket list to helping as many children as possible, raising more than €2.5 million by varnishing people's nail. He had less than one year to live.
"Lak door Tijn" was conceived only a few months ago. It's the brainchild of local Dutch celebrities who started the line of nail polish to raise money for Dutch children suffering from the same illness as Tijn who suffered from cancer of the brain stem.
Tijn passed away not too long ago. He left behind not only a brand with his chosen colours but also a hope for a newfound treatment for an illness that has no known cure.
For one, I could never look at this nail polish the same again. This one is truly different from all other nail polishes I ever owned.
No, we don't know him or his family personally; neither is this an affiliate post.
Though, one thing is for sure: the mother in me cannot look at his adorable face without my eyes glistening away and thinking how so very beautiful his soul was for wanting to help others even when his own life is uncertain.
At 6 year old, that was a remarkable gesture. Such selflessness and kudos to his parents for raising him so well. May his soul rest in peace.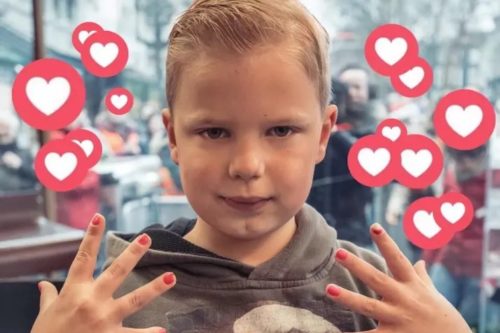 Note:
The fund-raising campaign for the buying the nail polish has unfortunately ended, though the foundation is still accepting donation here.