June 20, 2016
The kids living in our little Holland Village seem to have loads of free time. They play a lot, even in school. And by a lot, I mean A LOT! as they are constantly seen outside of their respective homes, playing. Pretty independently too, may I add!
It's not a good thing. It's a great thing! It's healthy to let kids be kids, play a lot and let them figure out the social protocols between themselves. Parents watch from some distance and intervene when necessary with minimal helicoptering.
With kids having so much time on their hands, it only make sense to play. They fall and they get dirty. It's part of priceless life-experiences. I'm 100% behind more play, less academic.It's more fun that way and they'd learn loads too.
But for a part-time working parent and part-time housewife like me, kids' free time comes at my expense. With "free time", I have had none so far!
Much to my chagrin, Spud and Squirt both go to school for (only) three full days and two 3.5 hour days. Then, two Fridays ago, I discovered that there was no school because they tend to give students a free Friday every now and then. Oii! WTF!
Already, their having half days are not very good for me since that means I have a lot less time to do other things as I try to juggle my 3-day work week. And another free day? No wonder the kids have tons of free time to play outside school. I could kill myself!
Did I mention about the 6 full weeks of summer holidays coming up yet? Aiyaiyaiyaiyai….!
Here's another thing: With their school pretty close by and a 6-8 minutes' walk away, I have been walking a hell lot back and forth from home to school and back again.
On their full days, I send them to school, pick them up for lunch at home 3 hours later, send them back again, go back home to do my shit and then picking them up yet again when their day ends.
That, if you count the back and forth is all 8 bloody times in a single day. How crazy is that?! All that walking does not even include the double sets of steep steps I have to navigate in our home, too!
But! As I have been informed with no sympathy or empathy of whatsoever, that is just the way it is. It is what the Dutch do. Kids go home for lunch and for young kids, they get picked up by their non-working parents or grandparents. Dutch people climb up steep steps in their homes a thousand times a day.
Suck.It.Up.
I should be proud of myself for I have been doing some serious shit with weight loss having walked more than I ever did in my last 3 weeks here than I ever did in Bangkok for 6 solid months. Not a bad thing at all; only the climbing up and down the stairs a hundred times a day is killing my already busted knees!
The walking though, I don't mind so much. Really. I actually enjoy walking when the weather is fine, but having to go back and forth 8x a day was getting quite a bit ridiculous – I could hardly get anything done! It was driving me insane and I was getting a little more than just exasperated.
It was only until last week we discovered that we could let the kids stay in school at lunch on full days known as Overblijven (literally translated as "a stay over"; in this case staying over for lunch with food from home). Even for a fee, it was a no-brainer that I needed to signed up for it.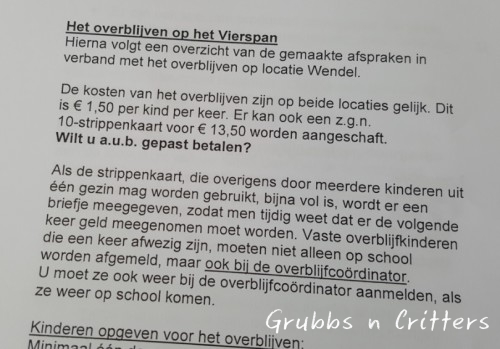 Now, where do I sign-up for a non 3.5 hour days for them and let them overblijven for after-school so I can get some proper shit done and not do things half-assed because of constant interruptions?
Oh wait! That's called the day-care. Located at a completely different place altogether. With additional expenses.
And.
And I don't drive. Isn't that just awesomely brilliant!
Cue the common Dutch expression (likely be said in the most matter-of-fact and sometimes without much sympathy): Jammer, maar helaas!
That translates to: Too bad, but unfortunate!
Alright then.
Now, please excuse me while I go get myself a straw AFTER I bury my head into my pillow and cry.