January 9, 2016
This time I was not hoarding. I meant to respond as soon as I could, but the fact of the matter was that I…uhmmm…forgot!
It was only when I was writing my 2015 in Blogging Review and pointing out that responding to awards is the way to go for page views, that I remembered I had 2 to do! Yep. Two. And I'm having a very silly grin on my face because:
Awards always make me happy. Really happy!
I get to add more logos into my little slideshow on my sidebar
and these 2 are the ones which I have not gotten before.
Sweet!
It still took a while before I typed this out since the realisation that I forgot because …uhm…I forget again! So now that I remember, and just to make sure that I am not hoarding, here we go with the first one from Sandra over at A Momma's View: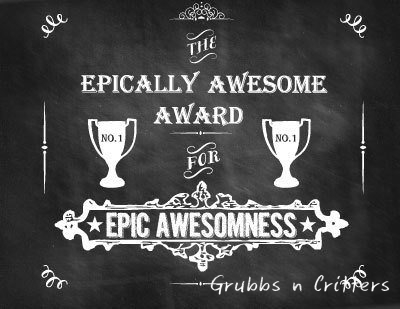 Epic Awesomeness! How epically awesome is it for Sandra to be so very kind to consider myself nominated just because I dropped in a congratulatory note to her. Too kind, I'd say! It almost feels like a shameless plugin, even though I was not expecting it. At. All.
The rules for this award are actually pretty simple and as Sandra rightly put forth, they do feel tricky for me too:
I know you are Awesome, tell us why.
You are my friends and tell us about others.
Be creative. It's alright if you can't be.
I give no questions to be fully answered but let yourself go here. Thank you.

Eeeks! Really? How creative (or shameless) can I get when it comes to beating my own chest and tell others how awesome I am? I don't even know how to answer that? I mean I can give you a laundry list of why I am not awesome, or go completely surreal over the top of why I think I am the most awesome (like standing on my head, juggling daggers); although the latter is harder for me.
That's not the point of this award, is it though?
I thought Sandra did very well with her response and I was inclined to do a copy and paste. But that would be plagiarising and oh-so-unoriginal. I guess I'll just have to give it a shot, so here we go:
1. I am AWESOME because there are now 165 bloggers who think I am as they are following me. It is YOU, YES YOU reading this at this very moment who make me awesome just by the sheer virtue of a follow. That, to me is what makes all this bloggily love thing awesome. ♫♪ I have nothing…nothing…naatthhiiiiing….if I don't have youuuuuu ♫♪
2. For all that follows, I thought I'll share this Epic Awesomeness Award to my very first batch of bloggers who followed (still following it seems!) within the week after I put myself out there and +1, followers whom, they themselves are pretty damn awesome!
And the +1? I just have to put in Eric, Stomper Dad here because he's a creative dude when it comes to writing. We know he's already awesome, one who is also highly engaging, and I'd really like to read what he could come up with on what makes him awesome, just for the fun of it!
3. Nope. I've got no creative juices flowing, but I'll try.
4. I don't have questions, but I do have a task if you are up for it:
You see, I love food and by nature, I can get quite goofy and silly. Food maketh me. Goofy and silly maketh me a light heart.
All I'm asking is for you to share your most epically awesome rendition of food with goofiness and sillyness all in. It could be a drawing, a quote, a picture, a story…whatever rocks your boat in your response to this award.
Make it as epically creative as you can, and I'll feature this part of your response on my blog. It will be epic!
No penalties for not trying.
Now, on to #2 is an award from none other than one of my favourite Daddy Blogger Eric, Stomper Dad who puts in my name for the Infinity Dream Awards. An award which I know not of what it exactly means. If I interpret it right, it's probably along the lines of forever dreaming. Something I can do if my logical brains would allow me to.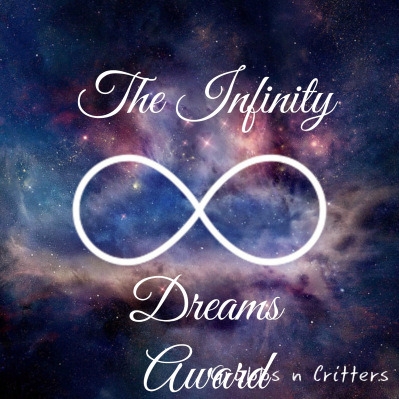 What can I say apart from a very gratuitous Thank You to Eric, for another lovely nomination to add on to my bag of awards. See! I didn't hoard. I just forgot. I second his sentiments if only awards comes with some cash flow! As with awards, there.are.rules.
Here are the rules for the award:
Thank and follow the blog that nominated you. Done!
Tell us 11 facts about yourself. See Below

Answer questions that were set for you to answer. See Below

Nominate 11 bloggers and set questions for them. I'm putting forth my most regular likers, some are silent readers. Hint,hint. Please leave some comments. Or not. No pressure.
11 facts about myself:
I don't have a driver's license
I cannot drive for the life of me
I am short-sighted but one eye has an almost perfect eye-sight
I recently discovered I cannot do lasik surgery because I have a lazy eye and that cannot be corrected
I am doomed to wear glasses till the day I die
But that's OK as I have no desire to be a pilot
I cuss too much. Sometimes.
I love Trainspotting (the movie)
Sometimes, I tend to break into a song I know on random things that I think of, see or say.
I just came to a realisation that my son may have gotten that breaking into a song "talent" from me; only he takes on a different level of turning random sentences and things he sees into a song he makes up along the way
According to the Chinese calendar, I was born in the year of the dragon.
My answers to his questions:
Your greatest strength?


My grit. And then getting myself into trouble.

Your greatest weakness?


Chocolates and Soft Nougats. I also suck at being a poker-face no matter how hard I try as my facial expressions give me away too easily.

Your favorite season of the year and why?


I live in a tropical country all of my life, my seasons are: hot, very hot, frigging-bloody-melting-hot, rainy days and thunderstorms. I do love the rain though and I love that fresh smell of rain. If I have to pick a season, I'll have to toss between autumn and spring as I like both. With my mood at the moment, I love it when it's spring. That's usually because we tend to go on vacation during that time and it is when the flowers are ablooming, the grass is green, the birds are chirping and the weather is just swell! It's a happy season.

What item would you want to save from your burning home if you could only save one?
Our personal document folder with all of our certificates and passports
If you and Bear Grylls would be stranded on a deserted island, with what would you be able to impress him?


If he could get me edible ingredients that are not gross, I could cook a feast and we'd have a ball in a deserted island!

If you'd have a bucket list, what would I find on top of the list?


Learn how to friggin' drive.

What is the one destination you would love to travel to?
Explore Mongolia.
What mystical creature would you like to have as a pet and why?
Dragons. Because they can breathe fire and shoot them out of their nostrils with their deadly poisons. I didn't make the cut to have all that even though I was born in the year of the Dragon. Dammit.
What other language than yours would you like to be fluent in?
Dutch.
If you could ask one question to a very special person, what and who would it be?
I would ask Silver Bullet why in the name of God did he not get me a pet dragon yet.
What kind of ice cream flavor would you like to invent?
What have they not invent yet? Let's see…how does nougat and red velvet mint macaroon sounds to you?
Here are my 11 regular Like clickers in the recent months and I thank you for your visits and acknowledgements on my posts. I promise I'll try harder to visit your blog more often!
Jas over at All That's Jas, if you are reading this and have the time, this one is for you too!
My 11 questions for you:
What is the first thing you do when you wake up?
What is the craziest thing you have ever done?
What is your OCD tendency?
Who is your favourite author and why?
How do you find the time to blog if blogging is not your full-time job?
Do you believe in ghosts and spirits? If yes, any personal encounters?
Are you an introvert or an extrovert?
If you could time-travel, which era would you be in and why?
In 3 words, how would you describe yourself?
What is your favourite movie and what about the movie that stuck?
Lastly, because this award is related to dreams, can you share your biggest dream?
That's it! Enjoy your awards. Please share the bloggily love and I hope to be reading your responses. 🙂