February 18, 2016
When I called up my dentist the week before to make an appointment for last Sunday, I hadn't realised that it was going to be on Valentine's Day. As I got my schedule confirmed, the lady on the other end of the line asked me if I really wanted an appointment for that day. Twice.
Puzzled, I told her that I was damn sure. She confirmed my appointment but I sensed a tinge of hesitancy in her voice. Weird, I thought. Why the hesitation? So I politely asked if it was possible at all and she joyfully re-confirmed my schedule. In the same breath, she gently asked me *again* if I was OK to come to the dentist because I had made an appointment on Valentine's Day.
With a "huh?!" and then a laugh, I told her absolutely! It's not a day I care about nor a day I would consciously remember. She laughed with me and sounded pretty surprise. Maybe, nobody ever has made any dental appointments on V-Day here in this country!
Perhaps she thought I am some kind of a wacko to want to get my teeth cleaned, scrubbed and scraped on the sacred Valentine's Day. I guess I must have been mad! It was, however, quite a funny conversation.
As soon as I got off the phone, I already forgot all about my Sunday appointment being on V-Day. We went about our week.
So while the world celebrated the day of love 4 days ago, we were at the dentist. And I'll tell you one thing: It was absolutely a great idea to have a dental appointment on V-Day because apart from the receptionist who answered my call, 2 nurses and a Dentist, there were no other people.
Usually, the appointment has to be made well in advance and for most of the time, it would be hard to get a slot. The weekends are always fully-booked. For that day, we were even able to make an impromptu appointment for Silver Bullet to go right after me, too. There was no waiting time.
It wasn't at all a boring affair; far from it. In fact, I think we made the receptionist's day as she was all into the kids. She seemed to have a blast entertaining our two little imps for the whole time we were there. She played with them and gave them all the attention. She even told me that I could go shopping for a few hours and then get the kids later!
Better yet, I get to put my feet up for a little bit when Silver Bullet was inside.
That's why it was such a fantastic idea to be at the dentist when everyone else is schmoozing someone else with expensive gifts! A morning at the dentist on V-Day and leaving the premise with clean, calculus-free teeth and 2 happy kids? I'll take that!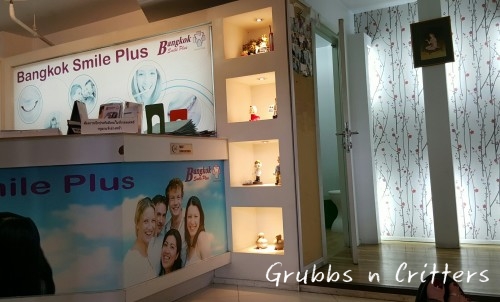 There was, however, no way of escaping the day of love last weekend. The streets were filled with over-priced red roses, heart-shaped balloons, cutesy stuffed toys and young lovey-dovey couples. News about the first couple getting married on V-Day in Thailand became the main news headline. We were smothered with everything V-Day.
But as long as we weren't the ones spending unnecessary monies on a day created by a marketer, it was nothing too bothersome. We had a fairly good day with the kids too. They finished their lunches in good time and were in high spirits for the rest of the day; mucking about, making faces and trying to master a new trick of crossing their eyes. It was hilarious!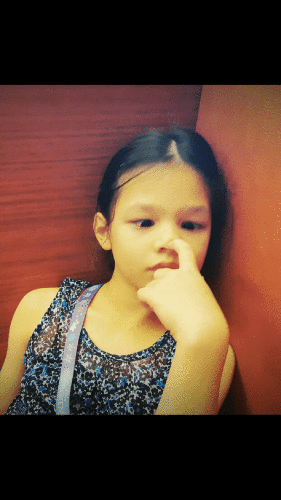 With the kids in good spirits, we went for a walk-about after lunch.
The only reminder that it was indeed Valentine's Day that day in which everyone else was celebrating but us, was kids going around in their angel costumes, complete with halos and wings, and distributing roses to other kids. Attached to each stalk of rose was a coupon for free coffee from a local coffee place called Tom n Toms Coffee.
It is kind of a copycat rip-off of Starbucks with the logo, colour scheme and all if you ask me. Only, they do serve good coffee.
And a decent-sized cup of coffee for free? Well, I'm not complaining!
The day passed like any other day. Nothing special was planned. For us, our day is always that much sweeter when the kids are not throwing their temper tantrums. V-Day is, but just another day; we do away with the unnecessary hype and the spending of overpriced gifts as well as glorifying yet another day marketed by Hallmark.
Going to the dentist, meanwhile, is absolutely OK. Having clean, pearly fangs that last for a few months is a great feeling; easily a better ROI vs chocolates or expensive flowers that would last for only a couple of days.
Besides, (if you are looking for love) who knows if you'd meet the love of your life after you stepped out of the dentist's chair? You know that at least you can give away your kisses with a set of clean, calculus-free pearly whites. There's no better way than that!
The day feels much like Stomper's Dad recent When the Stars Align post. I can relate to that and if you haven't read that yet, you should. Because when the stars are aligned, all good things are magnified the world over and it makes you appreciate the littlest things that are otherwise overlooked.
It is all the little things.