February 10, 2017
What could go wrong with savoury pastry made of choux dough that's mixed with cheese, crispy bits of fried shallots and chives all of which are baked in the oven?
Nothing!
Especially not with crispy outer shells with an eggy, cheesy and soft centre when you pull each of those puffs apart.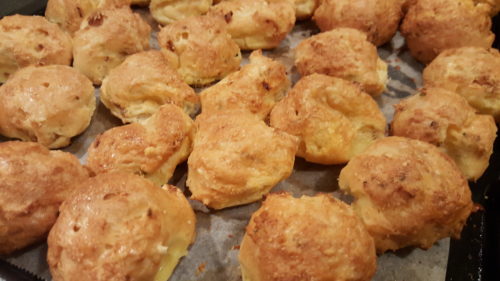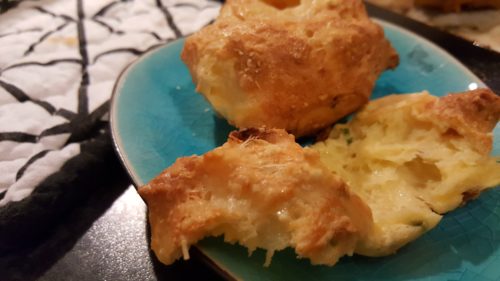 Mmmmm….just mmmm…mmmm.
The crispy shallots is my add-on to a typical Gougère (French-style Puff Pastry) that gives the flavour a different twist. The inside is hollow and I like that despite all the cheeses used, the texture turns out to be very light.
Crispy Fried Shallots Cheese Puffs (Gougère)
2017-01-30 04:32:41
Light, savoury and addictive balls of cheese puffs with a twist!
Ingredients
3/4 cup water
80g butter
Half tspn salt
Half tspn freshly ground black pepper
2 tbsp fresh chives, chopped
1 cup fried shallots, crushed
1 cup self-raising flour
4 large eggs
125g x 2 mozzarella cheese, pulled apart
Half cup + Half cup parmesan cheese, grated
Half cup gouda cheese, grated
Instructions
Preheat oven to 200 degree Celsius and line a baking tray with wax paper
In a deep saucepan, melt butter and mix it with water, salt and ground black pepper
Add flour and stir until it forms a shiny, sticky dough. Cook for a few minutes till all the dough come together (it will not stick to the side of the pan).
Turn off the heat and let it cool
When cooled, add egg one at a time. Stir each egg well till combined
Add in the cheeses, fried shallots and chives. Mix well.
Using a tablespoon, scoop the dough into a ball and place it on the wax paper. Repeat till all the dough is used up
Sprinkle more grated parmesan cheese on top.
Bake at 220 degree celsius for 10 minutes. The continue baking at about 180 degree celcius for another 10-15 minutes till the top turns golden brown.
Notes
The use of fried shallots is optional and feel free to substitute chives with parsley instead.
Adapted from Rasa Malaysia
Grubbs n Critters https://grubbsncritters.com/
As you can see from the recipe above, it is pretty straight-forward with hardly any tricks required. More importantly, this is perfect for appetizers before a meal or served as snacks for tea-time of afternoon coffee!