October 13, 2017
Sweet, tangy, stewy and tender.
That's a combination of flavours I would not have expected in a stew! Yet, this traditional dish from the Province of Limburg in the South of Holland was just that.
And when you go to the south (like we did last weekend), you eat like the Southeners: You eat Zuurvlees – otherwise known as "sour meat". Originally made with horse meat, Zuurvlees happens to be a good, ole local comfort food craved by many. It would be most enjoyable to devour on cold, wintry days.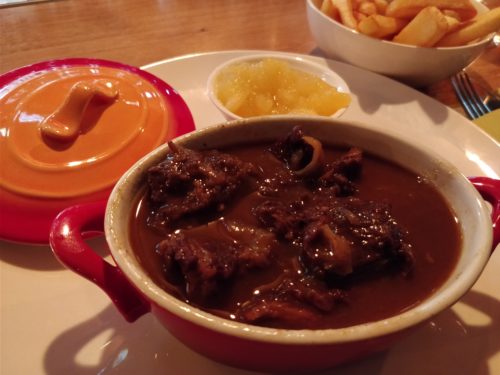 The one I had above was made with beef so tender they melt in my mouth. It was served in a traditional Dutch crock pot with a dollop of apple mousse and a large bowl of frites (thick, fat french fries, Dutch style) on the side. Yes, you read that right. Apple.Mousse. It's right there on the picture – that yellow moussey thing in between the stew and the bowl of fries.
It was not too bad a dish to be fair.
The sourish taste took me by surprise and the sweetness was something I had to get used to. Overall, I enjoyed the dish. I ate it all; partly because I was starving! Would I eat it again? My guess would be yes, but I need to be in the mood for it.
Looking for a nice, tried and tested Zuurvless recipe will be next on my list. But first! I've got to get me that enameled cast iron Dutch oven! Then we talk proper (home-made) Dutch-Limburg stew.