May 12, 2017
There is a potato monster lurking. And that potato monster is me. I love my taters like I love chocolates.
And chicken.
And ice-cream.
And rice.
And noodles.
Amongst everything else. Nett nett, food is not the same when there is no taters. I blame my mom for that because I don't remember growing up with mom's cooking without taters. Ever.
Funnily enough, I'm not big on french fries. I'd eat it, but it's not my favourite and if I do eat it, I prefer to go for the small, crunchy ones rather than the long, floppy ones.
You know what else is good with taters? Brie and crumbly goat cheese. And not just taters but stacked scalloped ones. In a muffin tin. Drenched Drizzled in with butter. Sprinkled with deli meat, pepper, chives and a little thyme.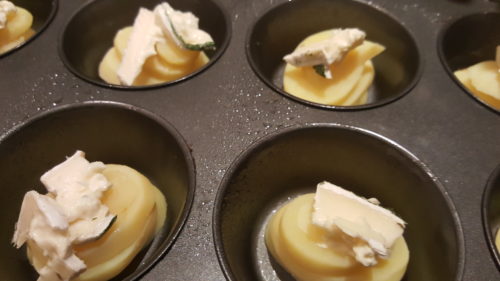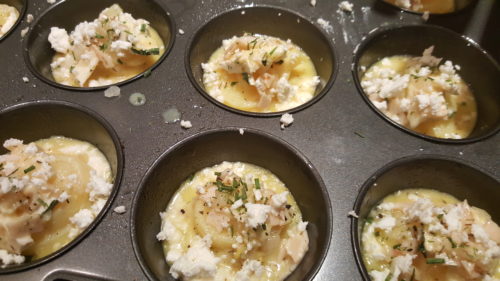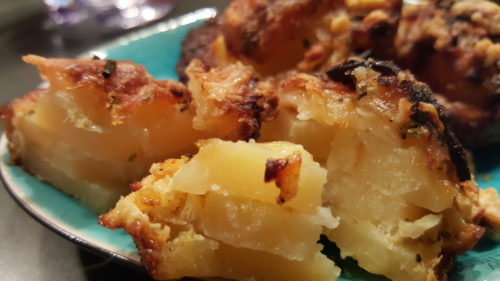 Once all that is assembled together, pop them in the oven.
Wait for them to brown and get ready to eat. For breakfast, lunch, dinner and or snacks.You won't regret this I promise.
Friday Flavour: Brie Gratin Muffin
2017-03-18 00:52:19
Individually-sized portion ideal for a satisfying finger food, breakfast, lunch, dinner or snacks!
Ingredients
500g sliced potatoes (I bought a par-boiled, mandolin-sliced store bought ones)
2 tbsp butter
3 garlic cloves, pressed
Half cup cooking cream
Salt to taste
Freshly ground black pepper
Half tspn cumin
Brie cheese, sliced
Goat cheese, crumbled
3-4 pieces turkey deli meat, chopped or cubed
1 tspn dried thyme
1 egg
Half chicken bouillion (optional)
Fresh chives, chopped (for topping)
Grated cheese (for topping)
Instructions
Spray grease on muffin tin and heat up oven to 180 degree celcius
Mix butter, garlic, thyme, cumin, chicken bouillon and black pepper in a bowl and heat it in a microwave oven for 30-40 seconds
Mix it to the taters and set aside.
Then stack the taters in the muffin tray with 4-5 pieces of the scalloped potatoes. Top with sliced brie
In a separate bowl, mix egg and cream then pour mixture into each muffin hole and let it cover about half
Sprinkle the chopped turkey deli, goat cheese and chives on top of it.
Grind more pepper over it and then sprinkle grated cheese on top.
Pop it in the oven for 25-35 minutes till the top turned brown
Ready to serve when ready to eat!
Notes
The killer combo here: Brie and Goat cheese They really do make a difference to the gratin!
Grubbs n Critters https://grubbsncritters.com/