June 30, 2017
Last Sunday, Muslims around the world celebrated the first day of Syawal, otherwise commonly known as Eid which marked the end of Ramadhan.
Like last year, we couldn't make it back for the second year running as it would cost us way too much to afford a flight back to Asia. The long haul travels would have to wait; which means another year of missing my mom's home-cooked food and feasting away all the good food that would be served before us.
So. Bummer that we could not go to the food. But I certainly could make magic by making my mom's food come to us: I decided to fill the house with the aroma of freshly made Ayam Masak Merah and let it bubble away on my stove: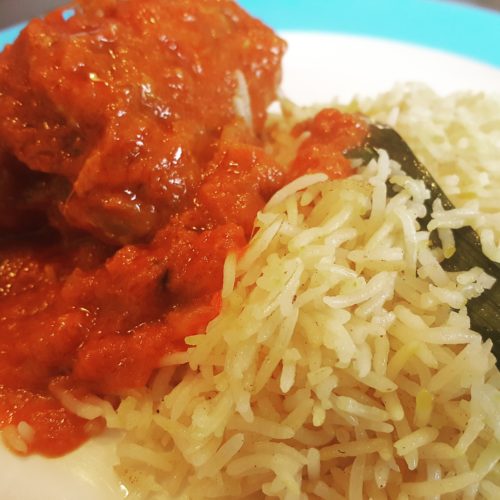 It may sound like a mouthful, but Ayam Masak Merah simply means Chicken (ayam) Cooked (masak) Red (Merah). Literally translating that sounds funny so we usually call it Chicken Cooked in Red Sauce. It's very aromatic and served with saffron rice during festivities.
Typically Asian-Singaporean-Malaysian-Indonesian, this is one dish where it can get very addictive. Took me years of practice to perfect this.
Like any mother's daughter, I am saying that only my mom can make this the best!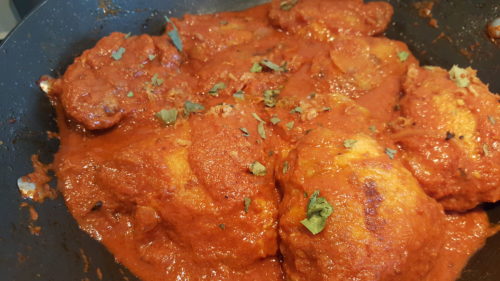 Ayam Masak Merah
2017-06-28 04:01:05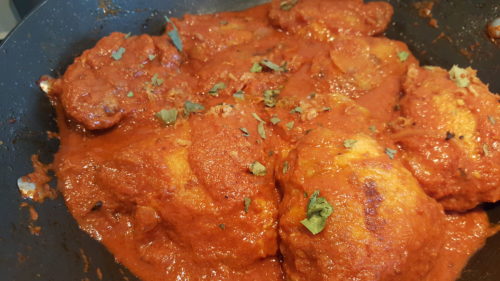 Serves 4
Aromatic, creamy, addictive chicken in red gravy that screams special!
Ingredients
8 chicken pieces
1 tbsp turmeric powder
Pinch of salt
For the sauce (to blend)
2 cloves garlic
15 pieces dried chillies, cut slantwise and soaked in hot water for 5 minutes
2 inch ginger, peeled
1 inch fresh tumeric, peeled
2 big onions, roughly cut for blending
2 tbsp cumin seeds
1 tbsp coriander powder
3 stalks lemongrass
Others
2 big onions, sliced thin
5 cloves
1 star anise
Half cinnamon stick
140g tomato puree (or 2 cans of a small puree)
2 ladles of evaporated milk
Half a lemon
Half tspn salt
3-4 pieces kaffir lime leaves, crushed
Shallots and spring onions for garnish
Instructions
Blitz all the ingredients for the sauce. Set aside.
Rinse chicken. Rub them with turmeric powder and salt then fry them all till half cooked. Drain oil and set aside.
Heat up oil. When it is hot enough, saute sliced onions with the spices (cloves, anise, cinnamon) for about 3-5 minutes till the onions turn translucent
Add in the blended ingredients. Stir well and cook for about 10 minutes.
Add in tomato puree, evaporated milk, squeeze half a lime and salt to taste
Add the half-cooked chicken and mix well.
Toss crushed kaffir lime leaves and mix again. Cook for about 20 minutes, bring to boil and make sure the chicken is thoroughly cooked
Top with fried shallots and spring onions
Serve hot with saffron rice
Notes
Feel free to adjust the number of chilli used to avoid spicyness, though it is a must to use dried chillies, not fresh ones.
Grubbs n Critters https://grubbsncritters.com/