June 25, 2014
In a recent workshop which I attended as a delegate representing my office, I was exposed to one of the more interesting ways for a facilitator to get participants in a workshop to introduce themselves.
Before the workshop started, we each had to stand up and introduce ourselves this way:
If you are like me, you probably would question how useful or relevant "favourite colour" is to this introduction game as it sort of jumped out of now-where and even seemed meaningless. Nevertheless, all 30 of us went through the motion candidly. Most of the delegates chose blue or within the spectrum of blue, with several browns and grays in between. There was one yellow and a few went for green and white. I did not kill too much brain cells thinking about it and called out maroon – my favourite colour of all time.
In that time span of 20 minutes introduction, colours suddenly became a topic of interest and some even elaborated the reasons as to why they like a particular colour so much. I don't have much to elaborate on my whys; I just really love, love, love the colour maroon and don't have any particular reasons for it.
Now, before you read further, do me a favour : Think about your own favourite colour.
Make a mental note of it.
Ready?
Yes?
Don't scroll the page just yet.
Changed your mind?
OK. Try again.
This time, pick one and make a commitment to it.
It's about to get interesting, I promise.
Ready?
What IS your favourite colour?
And if you have already chosen one, find your favourite colour on the picture below and read the description of your inherent personality trait.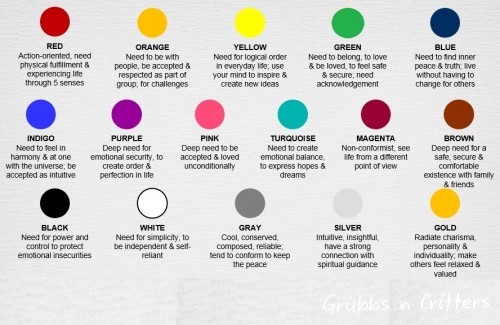 Interesting, isn't it?
Funnily enough, my favourite colour maroon is not listed here. The closest to that is magenta, and guess what! It fits me to a T. How is that for a quick personality check!
And, as to how the "favourite colour" question came into play as part of the introduction, it really is about getting to know each other better.