March 11, 2016
Pakoras are classic Indian deep-fried snacks or fritters that are made with a variation of chickpea batter, onions, daal (lentils) and/or other types of vegetables including the use of potatoes. They are usually made spicy and abundantly found in South Asia.
With dhal, I'm not a big fan of. It is one of those ingredients that I will not purposely look out for or something I would die for. But that changed when I tasted one of my friend's crispy, spicy snacks at her son's birthday party and I could not stop eating them.
Crispy on the outside, soft on the inside. I could have sworn it tasted like there was meat, but there was no meat to be found. It is all vegetarian and I was hooked. I still would not die for it, yet I did went out of my way to buy some dhal just so that I could try to replicate what my friend had made.
See, food happens when my butt gets itchy. Feeling stress helps too!
Besides, I get to make something I have never tried before and making it was pretty easy too. All you have to do is to first soak the dhal overnight to soften it and release the starch. Then it's a matter of blending and mixing spices before rolling them up and deep fry. THAT easy!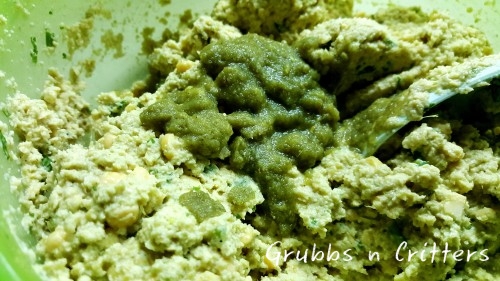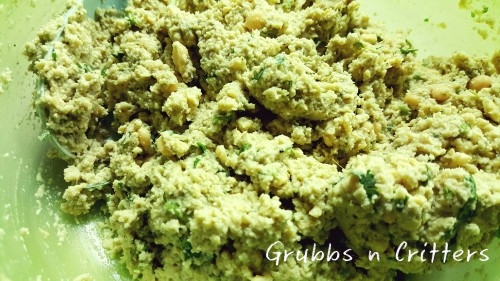 The results: There was no turning back!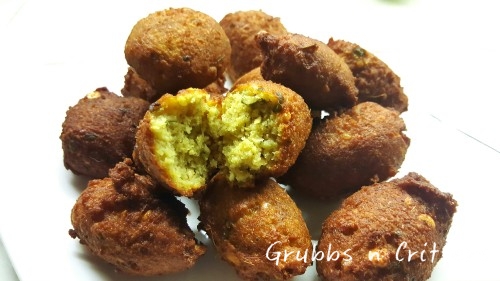 Dhaal Pakora
2016-02-04 01:08:38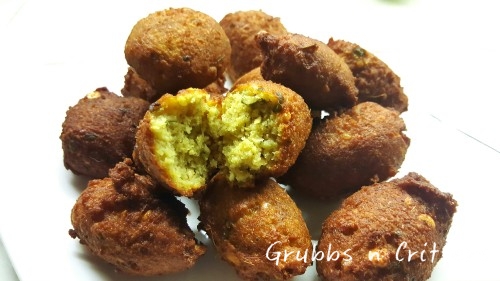 A tasty snack perfect for appetizers or tea-time!
Ingredients
3 cups dhal, soak overnight
8 green bird's eye chillies, cut slant-wise
3 cloves garlic
1 inch ginger
1 tspn cumin seeds, soak in hot water for 2 minutes
Half a tspn fennel seeds, soak in hot water for 2 minutes
springs of coriander leaves, chopped
2 small shallots
Half a handful of curry leaves
Salt to taste
Oil for deep frying
Instructions
Drain the soaked dhal and grind them
Drain off the water from the cumin and fennel and put them in a blender.
Mix the rest of the ingredients, except coriander, together with the fennel and cumin in the blender
Mix all the ingredients together and add in the chopped coriander to the mixture
Add salt to taste
Roll them into a ball, or you can also just use a spoon to scoop the batter into the hot oil when you are ready to fry
Fry them till golden brown
Serve
Notes
These pakoras can be eaten on its own, and you can also make your own chutney or yoghurt dip to serve on the side
Grubbs n Critters https://grubbsncritters.com/