January 13, 2017
If you love cooking, fun, and a challenge, this free recipe and cooking game is for you!
So says my lovely, multi-talented culinary dynamo friend Jas Brechtl. She's got me contemplating a commitment for a while now when she recently announced that she'll be hosting Recipe Showdown from January 2017.
The concept of Recipe Showdown is pretty similar to our Monthly Mystery Munchies (started in 2015) where the host site for a particular month sets the key ingredient/food product that participants must use.
The key difference is that this is properly rooted to a game that exists in the region of former Yugoslavia on the blog called Kuvarigrice.
While our Monthly Mystery Munchies is a small yet fun affair between just Gen @Eat, Play, Clove and myself done on the 1st Friday of every month, Recipe Showdown will be a larger affair to anyone who wants to participate. It is a month-long participation with official rules and the host will announce the winner on the first of the following month who would then be the next host.
Another great way to push my culinary boundaries! That sorts of seal the deal to join in the fun and I thought I would do that by complementing one of my weekly Fabulous Friday Flavours with Recipe Showdown.
Jas kicked off January with an ingredient which I don't quite like to eat and never used for my cooking: Gorgonzola Cheese!
That's blue cheese, mind you. The kind with a taste that bites and to me, smells like feet! It would be one of those cheese I would say Thanks and NO THANKS to and please get that vile, viney, mouldy thing out of my face.
But I did say I'd rise up to push my culinary boundaries. So, with Pinterest as my source of inspiration, we bought the milder Gorgonzola for my experiment. I then covered my nose and gagged my way through while making my batch of Savoury Thyme-Blue Cheese-Fig Cookies.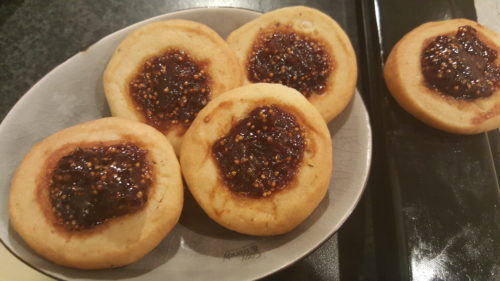 This was such a pleasure and surprising easy to make: From dumping flour, butter and Gorgonzola all dumped into a food processor before mixing with thyme and then knead to form a dough… to that satisfying feeling of making your very own fig-cinnamon jam to pair with the savoury blue cheese base.
Whatever ill-feeling I had of the dreaded Gorgonzola before dissipated when I took my very first bite of the cookies when it came out of the oven. It was soft, crumbly, saltish yet sweet and fruity all at the same time. It had a little "bite" which I can't quite explain.
My only gripe is the not-so-uniformed size of the dough and how messy each cookie looked after I splatted the jam on it. There's definitely going to be another round of this and next time, I'm going to work on the shape and the mess!
Thanks to Jas, this is a keeper. While I would still NOT eat blue cheese just like that, this is a classic case of without this challenge, I would still be your ardent nay-sayer of Blue Cheese in whatever shape and/or form.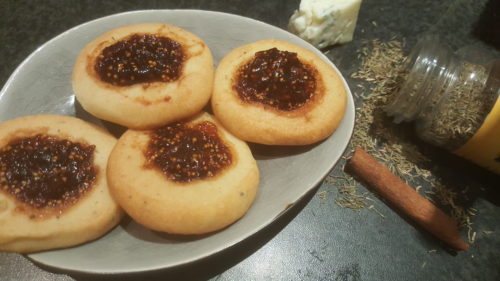 Savoury Thyme-Blue Cheese-Fig Cookies
2017-01-09 05:54:12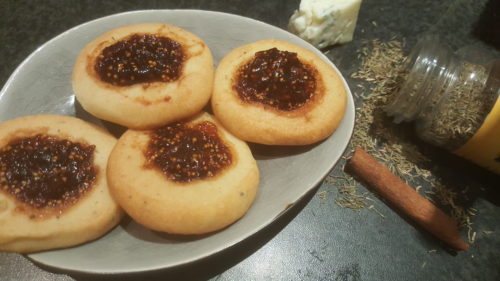 A deliciously buttery, crumbly cookies made with thyme and blue cheese topped with home-made fig jam bursting with flavours of lemon, honey and cinnamon
For the Cookies
1 cup self raising flour
115g butter, room temperature
115g Gorgonzola Cheese, cubed and crumbled
Ground Black Pepper
2 tspn thyme
For the Jam
250g dried figs
1 cup granulated sugar
Half cup water
1 quarter cup freshly squeezed lemon juice
Half tspn honey
1 tspn vanilla extract
1 cinnamon stick
Instructions
Pre heat oven to 180 degree Celsius
Mix flour, blue cheese, butter and pepper in a food processor
Once the dough is mixed well, transfer to a bowl. The dough will be very sticky at this stage
Add in thyme and knead to a ball. Use more flour if necessary. It should be a little sticky, but not too sticky
Roll up into a long cylindrical shape and wrap with baking paper
Leave it in the fridge to cool for about 10-15 minutes
While the dough is cooling, heat up a deep pan and mix fig, water, sugar, lemon juce, honey, cinnamon stick and vanilla extract.
Mix well, caramelise the mixture till it is reduced down to a sticky, qooey, jam-like liquid.
Add more water if it gets too thick and let it reduce down again. Watch that the caramel don't burn or you'll end up with a very bitter jam.
Simmer for about 15-20 minutes; Let it cool once you are happy with the texture and consistency
While simmering the jam, remove the cooled dough from the fridge. Cut rounds of the dough. Place them on a baking tray
Then cut the into circular pieces
Using the back of a spoon, make an indentation in each cookie to place the jam
Bake for 8 to 10 minutes
Remove and cool completely
Notes
The thyme is optional. You can replace it with Rosemary if you like or not use any herbs at all. Using honey for the jam may dilute the taste of the figs, so do not overuse it and you can omit it if you like.
Grubbs n Critters https://grubbsncritters.com/
The rules of the game "Recipe Showdown"
The host site for a particular month sets the key ingredient/food product that participants must use. The ingredient is given on the 1st of the month. (The first game will start here on January 1st)
Any time during that month, participants make a dish with the given ingredient and publish the recipe on internet with a link to the homepage of the game (this page), and a link to the post in which ingredient is given (host site).

The participant who has already published a recipe with a given ingredient, regardless of the date, can use it to share, following the same rules (link to the host site and the game homepage).
Participants have to e-mail the host page the following information:

– Name
– URL of the page where the recipe was published
– Photo of the finished dish

The host site will publish all submissions with links in a post at the end of that month and select a winner/new host site for the next month. The host site can, if they wish, send a small gift to the winner.
The host site will share the post on their social media.
Re-entering the same recipe and repeating the host site is allowed after 2 years (subject to change).

Here's the deal:
The game homepage (this page) will keep a running list of all host sites and ingredients, hence the rule to link here (so we can keep track).
To more success from #RecipeShowdown! Don't forget to submit your recipes to allthatsjas1@gmail.com with the subject line Recipe Showdown January 2017 and share your creations on social media using hashtags #RecipeShowdown & #allthatsjas