January 20, 2017
When the craving for a taste of home comes flooding in, it is hard not to give in.
Besides, this has been a while. The food I'm referring to is what we'd call Maggi Goreng back in Singapore. They are usually sold in coffeeshops (don;t confuse yourselves with the "coffee shop" that are popular in the Netherlands) from an Indian stall. It is made using instant noodles, usually Maggi noodles and fried with various other condiments.
There's no Maggi Noodles here, but there certainly ain't any shortage of local instant noodles. Not the healthiest of meals , I know…but cravings should not and never be ignored.
So screw healthy, a woman just need to get her fix!
And this is how we do it ♫♪: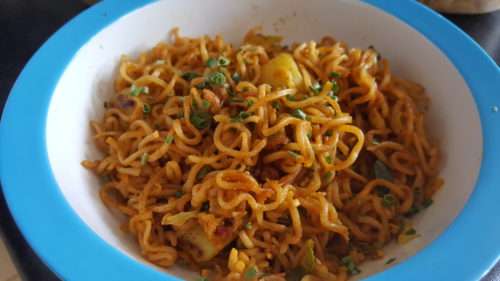 Mee Goreng Kari (Curry Fried Noodles)
2016-08-02 02:06:02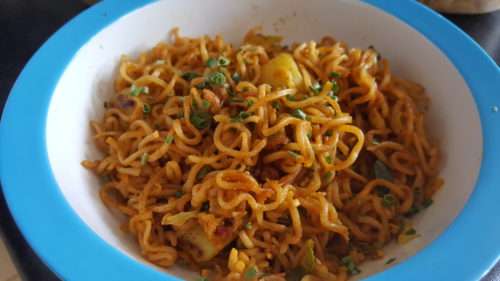 Serves 2
A rendition of Singapore's hawker food using instant noodles
Ingredients
2 packs of instant noodles (boiled, drained and set aside)
1 yellow onion, peeled and diced
1 clove garlic, pressed
2 green chillies, sliced
1 tspn curry powder
1 tbsp oyster sauce
2-3 tspn light soya sauce
A cup of vegetables (I used sliced cabbage)
300g of chicken meat, sliced thin
1 egg
2-3 tbsp olive oil
Salt & Pepper to taste
Instructions
Heat up olive oil in a wok or deep pan
Once it is hot enough, press garlic and saute.
Immediately add the onions and green chillies. Fry till the onions appear translucent
Add in the meat and make sure that it's cooked
Then add in the curry powder. Stir well
Add in oyster and soya sauce. Continue to stir and mix well
Add vegetables and cook for a few minutes
Add the noodles. Mix well till all the noodles are covered in the gravy
Season with salt and pepper
Make a well in the center and fry up the egg. Once the egg is almost cooked, stir together with the noodles to break it up
Mix well. Serve!
Notes
The oyster sauce can be substituted with black sauce. You can always top your noodles with a fried egg (sunny side up)
Grubbs n Critters https://grubbsncritters.com/
This Mee (maggi) Goreng dish always brings back fond memories of sharing a plate between 2 or 3 friends when we go on a short break as well as our regular after-hours silly chat sessions with a bunch of loony friends. It is the ideal food for supper, too and only 15 minutes to whip up.
There's always small space for a bowl of Mee (Maggi) Goreng, even if it seems unhealthy