October 30, 2015
Smooth, creamy, cheesy… with broccoli-capsicum base infused in an Alfredo sauce, makes for a quick and easy meal to a simple macaroni meal. This is a great power meal for kids as well as for picky eaters who especially do not like broccoli! Not that my kids would not eat their broccoli; they do, but only if I cut them up small.
The only reason this became a broccoli cream dish was because I was feeling a little lazy, so I dump the broccoli and capsicum into the blender to save myself some cutting time.
All in, this dish can be whipped up in 20 minutes (not including boiling the macaroni) and ready to be served or frozen in batches for the days to come.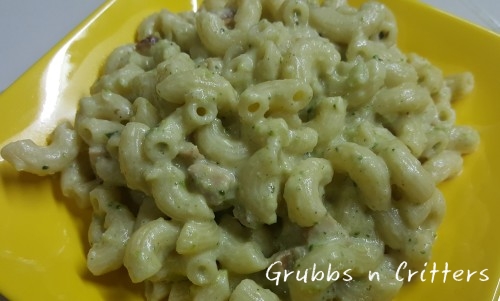 Macaroni Broccoli-based Alfredo
2015-10-12 10:14:03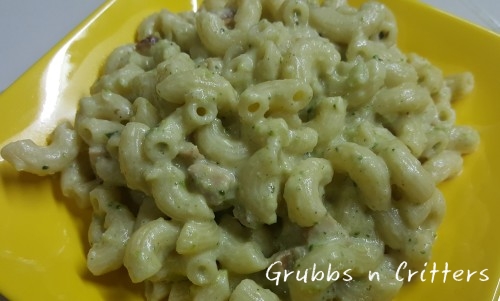 Quick, easy and very-kid friendly pasta dish in vegetable goodness!
Ingredients
2 heads of broccoli
Half green capsicum
Half a cup butter
2 garlic, pressed
4-5 pieces of chicken ham, sliced thin
1 pack of cooking cream
1 cup of milk
Half a cup grated Parmesan cheese
Half a cup of cheddar cheese
Half tbsp dried basil
Half tbsp dried oregano
Half tbsp sage
A bag of macaroni, al dente
Instructions
Boil the macaroni till al dente. Drain and set aside
While the macaroni is boiling, blitz the broccoli and capsicum together. Set aside.
Heat up the pan and melt the butter. Then add in the pressed garlic
When the butter and garlic are a little coloured, add the sliced chicken ham. Cook for about 2 minutes.
Then add in the blitzed broccoli and capsicum. Continue cooking for about 5-10 minutes.
Add in the cooking cream, Parmesan cheese and cheddar. Mix well, add in the milk and let it come to a boil.
Add in the dried herbs
If it gets a tad dry, add in a little bit of milk to get a consistent liquidy texture. Feel free to add more cheese to thicken the sauce
Add the al dente macaroni into the cream and mix well, ensuring that all the macaroni are covered with cream
Turn off the fire and serve
Notes
Avoid over-cooking the macaroni or it will turn to a mush when you mix it in with the creamy sauce. Feel free to mix and match the meat and dried herbs of your choice.
Grubbs n Critters https://grubbsncritters.com/