December 11, 2015
Fancy making some home-made hot chilli sauce from scratch? If yes, look no further because this week, I'm sharing my tried and tested recipe with you.
It's fuss-free and easy to make. All you need is lots and lots of dried chillies and let it simmer in a pot for a couple of hours. It's always tricky with dried chillies as it is hard to gauge their spiciness. Usually, the only way I gauge if my sauce is going to turn out to be VERY spicy is when my throat gets irritated the moment I start cutting the chillies and soak them in hot water. Then I know I'll have a mean batch to deal with.
To counter the spiciness, use both lemon juice and sugar. That's all you need really. From then on, you'll have to adjust and play it by ear; in this case, tongue and add in more water while simmering it under low fire.
Use this for dipping deep fried food. It's great!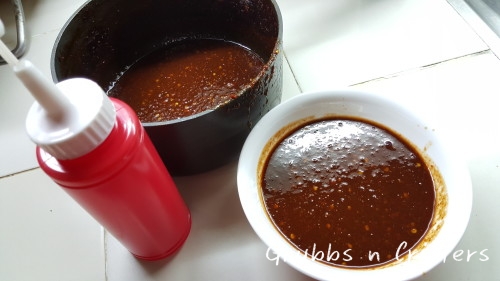 Home-made Hot Chilli Sauce
2015-11-29 23:42:15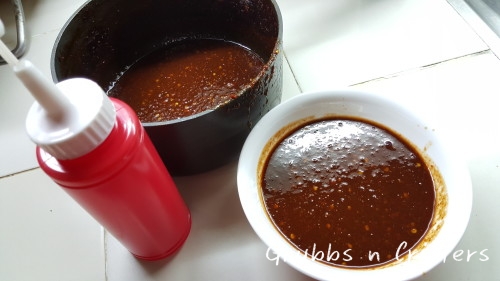 Fiery hot and sweet chilli sauce for dipping!
Ingredients
15-25 pieces dried chillies
1/2 lime
3-5 tbsp brown sugar (adjust sweetness to your liking)
1 tbsp olive oil
salt to taste
Instructions
Cut up the dried chillies to remove the seeds and soak in hot water for about 10 minutes. Drain
Blend the chillies with some water so that it'll blend up easily
Heat up a deep pan with 1 teaspoonful of oil. When the pan is hot enough, add in the blended chillies
Stir occasionally to prevent the chillies from drying out or burnt. Let it simmer for at least half an hour
Add some water if it becomes too dry
Squeeze lime juice and add into the liquid.
Occasionally stir until the chilli gives out a very deep red colour
Add sugar and salt to taste. Mix well.
Add more sugar if you prefer it to be sweeter to tone down the spiciness of the chillies
Feel free to add more water to adjust thin the sauce to your preference
Let it simmer and turn off the heat when it's ready
Transfer to a container when cooled
Notes
The longer you cook, the less spicy it becomes and adding lemon will help reduce the spiciness as well. This sauce can be kept in the fridge for at least 2 weeks.
Grubbs n Critters https://grubbsncritters.com/