October 21, 2016
More rotten over-riped bananas, another reason to get the flour, butter and baking trays out. Another reason to try out a new banana-something recipe. All in the name of advocating our well intended no-waste cause
Even after finding one or two banana bread recipes which I thought was great, my quest for the best banana bread recipe is never ending. With banana bread, there's always some other recipes that seem a little different, begging to be made.
But! Let me park that for another Fabulous Friday Flavour post. For today, I'm going to go with a muffin recipe.
Only because the kids wanted the muffin version versus the bread version. What's a mother supposed to do but dutifully obliged with this: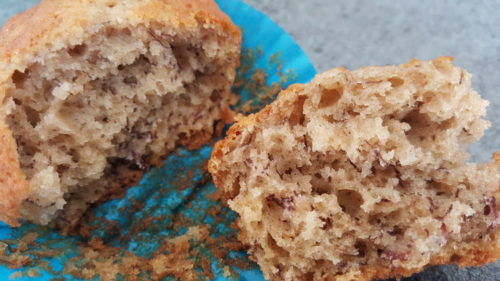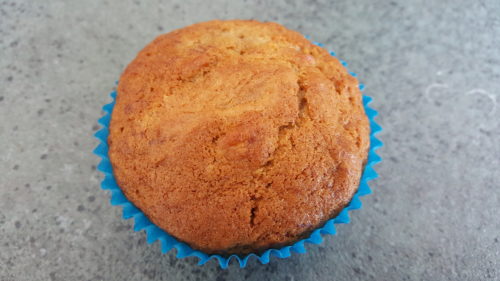 Not only had I obliged, I also decided to make it more interesting by adding a dash of speculaas powder – a mixture of spices using pepper, cinnamon, cloves, cardamom, ginger and nutmeg. Speculaas itself is a spiced shortcrust biscuit. They are traditionally thin, crunchy, caramelised, has a flat back but comes with a figure or image stamped on the front.
It's a Dutch thing too but also consumed in Belgium and in the west and south of Germany.The taste is almost gingerbread-like although Silver Bullet would insist that it's different. It's not quite the same he says and he is very proud of the Speculaas he made with his grandfather's secret recipe.
But this is not about speculaas biscuits either. At least not today.
Today my dear readers, we are going bananas with a touch of Dutch. It's light, it's fluffy and it's moist. Taste and texture wise, I assure you it's a winning recipe!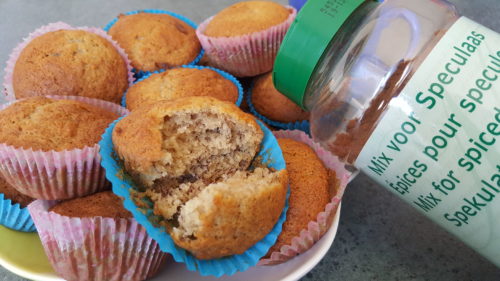 Fluffy Banana-Speculaas Muffin
2016-09-30 04:09:36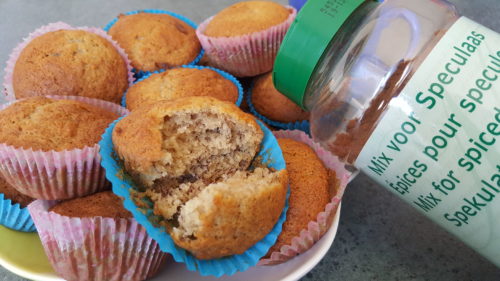 Quick, light and fluffy banana-based muffin with a hint of speculaas flavour
Ingredients
1.5 cups all purpose flour
1 tspn baking powder
1 tspn baking soda
1/2 tspn salt
1 tspn speculaas mix
3 large bananas
3/4 cup sugar1 egg
1 tspn vanilla extract
113g butter, melted
Baking cups
Instructions
Pre-heat oven to 175 degree celsius
Grease muffin tray with baking spray
Put in the baking cups into each mould
Sift flour, baking powder, baking soda, salt and speculass powder all together. Set aside
Mash bananas in a large bowl. Then add sugar, egg, vanilla extract and melted butter into the banana and mix well
Fold in the flour mixture into the bowl of banana batter until just combined. Avoid over mixing
Scoop about a heap of 1 tbsp of of batter into each muffin cups
Bake for 15-20 minutes till it golden brown
Notes
Give the banana muffin a variation by adding in chocolate chips or fresh peaches into the batter after adding in the flour mixture
Grubbs n Critters https://grubbsncritters.com/
Tell me something: Don't you just love the aroma of freshly baked something in the oven? I know I do!