August 26, 2016
Who wants muffins? Or if you prefer to refer to them as cupcakes instead, that would do too!
OK, one might argue though that the method and mixing process of making cupcakes vs muffins are different. Therefore it's a cardinal sin to say that they are the same. Never mind that the ingredients are (almost) similar. The difference is stark!
Don't believe me? Try comparing them on Diffen. In fact, you can compare just about anything your heart desires on this neat site I recently discovered! But I digress.
Back to muffins. Or cupcakes. I suppose muffins sound healthier than the latter with lesser use of sugar. Adding all sorts of fruits justifies that, too. Plus no one and I mean no.one. would bat an eyelid if you say you have had muffins for breakfast. Or that you fed your kids muffins for breakfast.
Now try telling people you ate cupcakes for breakfast. And worse, feeding your kids cupcakes for breakfast! Gasp. Shock. Horror.
See what I mean?
All of a sudden you'd be labelled as a bad parent for feeding your younglings cupcakes. So, to be sure that I am in the good parent circle, I not only bake cupcakes muffins, I also bake with the kids to teach them some responsibility. For good measure, I even allowed them to choose what goes into the cupcakes muffins so they learn to make decisions.
True to their Dutch blood, they chose vlokken (chocolate flakes) over hagelslag (chocolate sprinklers). Great addition to the orange and red berries muffin recipe I'd say! We then decided that the left-over hagelslag should not be wasted and promptly added the remainder into the cupcake muffin batter.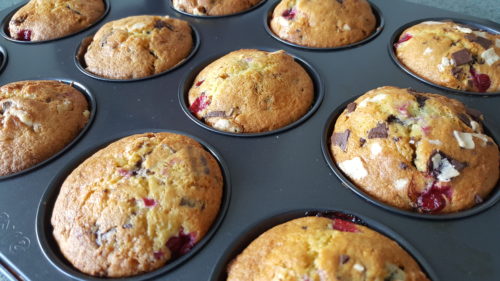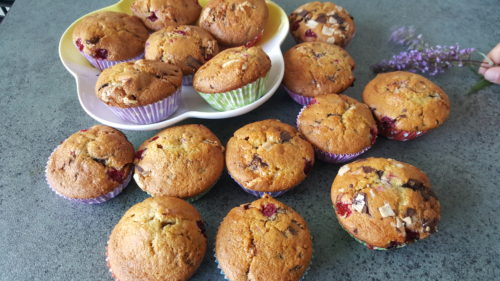 This was the best cupcake muffin ever. It's light, it's fluffy, it's soft and it's moist. Best of all, the fusion of flavours from the fresh orange, red berries and the Dutch influence of vlokken and hagelslag make this cupcake/muffin so versatile that you'd have no guilt of having it for breakfast, a late morning and/or afternoon snack and even as a desert after lunch or/and dinner.
This grubbecipe is certainly worth a shot and I'm bringing this to Fiesta Friday. Besides, good parenting often always start with a good dose of cupcake muffin and a large portion of vlokken and hagelslag as a recipe to true happiness! And if you want frosting on top of it, I'd say go right ahead!
Orange Chocolate Vlokken Muffins with Red Berries
2016-08-20 05:17:58
Easy orange-chocolate-red berry muffin with a touch of Dutch
Ingredients
3/4 cup fine sugar
1-2 tbsp orange zest
Half a cup orange juice (fresh squeezed from the orange)
1 3/4 cup sifted all purpose flour
2.5 tspn baking powder
2 tspn baking soda
Half tspn salt
2 large eggs
75g unsalted butter, melted and cooled (or use half cup of canola oil as alternative)
60ml sour cream
1/4 cup whole milk
Half tspn vanilla extract
1 cup vlokken
1 cup hagelslag
A handful of fresh red berries (or use it as toppings)
Instructions
Pre-heat oven to 190 degrees Celsius
Grease the muffin tray or prepare baking cups
In a large bowl, toss sugar and orange zest
Combine flour, baking powder, baking soda and salt and mix together in the bowl. Make a well in the dry ingredients
In a separate bowl, whisk melted butter , eggs, sour cream, milk, orange juice and vanilla extract. Whisk well and smooth
Pour the wet ingredients into the well of the dry ingredients. Then stir until combined. Do not over mix.
Lastly, fold in the hagelslag and vlokken
Scoop the batter into the individual muffin cups up to 2cm to the top. The add a few red berries on top
Bake for 15-20 minutes. Watch that it doesn't burn and to be sure if it's cooked thoroughly, insert a wooden stick. If it comes out clean, you are good to go!
Allow to cool for 5-10 minutes then remove the muffins to let it cool completely.
Important: Devour quickly!
Notes
You can always choose not to include the chocolate or substitute the hagelslag/vlokken with chocolate chips or sprinkler. Or if you wish, add raisins. Or blueberry. Or whatever fruits you fancy!
Grubbs n Critters https://grubbsncritters.com/