February 28, 2017
The results for February Recipe Showdown cooking challenge are in.
If you've been following me on my blog, Pinterest and/or Twitter, you'd have seen my frenzied attempts to call for submissions of recipes for #RecipeShowdown.
This was all thanks to Jas, over at All That's Jas who has kindly proclaimed yours truly as the winner for February. She also sent me a nice little gift in the form of a cheese board too! Oh , bless her big heart! 🙂
As the winner, one gets to be the host and picked an ingredient of choice. The ingredient I decided on was SAGE. Hence, for this month (and this month only) I have been trying (not really full-on darnest unfortunately) to get as many participation as possible.
We closed the month with 6 recipes contributed by 4 bloggers. Not as many as I would like it to be, but I'll take whatever number I can get.
As it was, all 6 of them were pretty darn savage and already, I had a hard time choosing a winner! This was a tough call.
Anywhooooo, before I declare the winner, let's do a quick round-up of the submissions: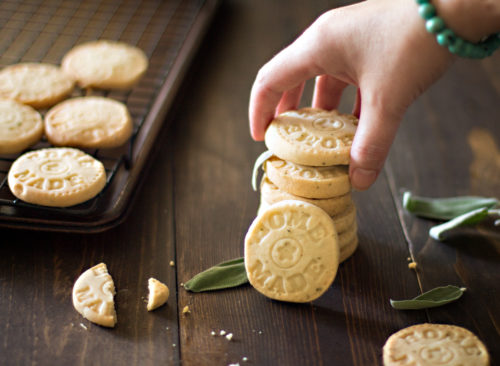 Lemon and sage in the form of cookies?! Count.Me.In. I love the unique combo and if for the fact that the former host cannot be hosting for another 2 years of #RecipeShowdown, I think I would have picked this recipe as the winning one.
Why 2 years? Don't ask me why – perhaps 10 years of bad luck or something like that.
The cookies are slightly sweet, buttery, and herby with a great texture. I don't think it's a strange combo at all as I thought it was pretty creative. Plus she got it all embossed with "Home Made".
This is apparently not the strangest cookie Jas has ever made; she's made peanut butter and bacon cookies (What?! Ewwww) before. The recipe is somewhere in her blog if you are curious to get a peep.
If you are looking for something vegan, then this Shephard Pie from Cook and Enjoy is for you! It's only mock beef in there, with a boat load of mushrooms as well as other combo of vegetables.
I'd imagine using celery topped with sage as the recipes says it makes all the difference in taste of this dish. It looks like such a filling dish too!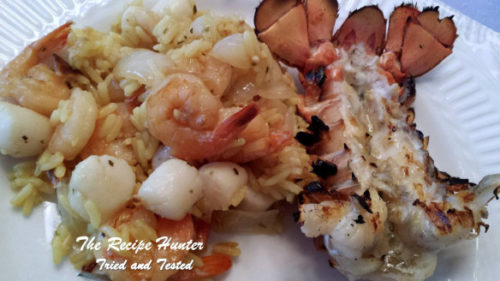 Oh for the love of food and another submission from Cook and Enjoy! I love, love, love seafood and the combo of scallops, prawns and crayfish makes this paella a dish to crave for. The fusion of herbs used in this dish makes it very interesting.
The irony is that I can smell that aroma of crayfish as it's being bar-bied…a little smoky, a little charred and oh-so-heavenly.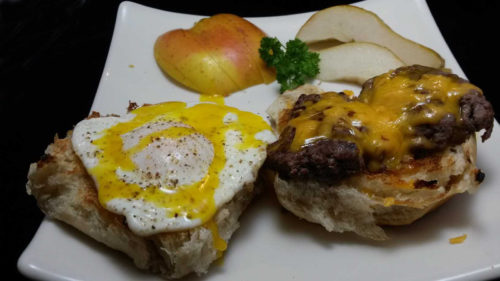 You know…I've thought of kebabs and stuff but I never thought of making my own sausages. Ever.
This recipe from Binky's Culinary Carnival has opened up my eyes to the possibility of making my own sausages one of these days and I do like the fact that Binky only used sage in her recipe. And, get this: all she did was simply RUBBED the sage all over the meat!
That's it. Well, you still do have to cook the meat of course.
For the life of me, I cannot pronounce the title of this Schnitzel dish. But I really do like that sage was being used in combination with orange, honey and sherry!
Betcha this would taste amazing! Orange and sage? Sign.me.up. What a creative recipe from Binky's Culinary Carnival!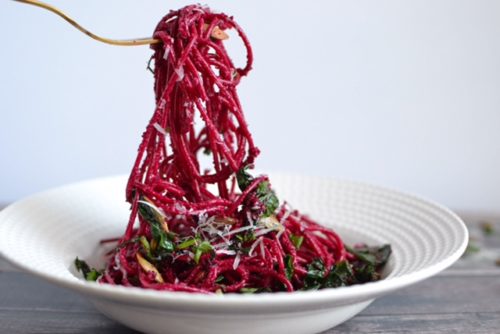 A DELICIOUS, ANTIOXIDANT-RICH BEET PESTO RECIPE THAT IS GOOD FOR YOU AND YOUR WALLET! IF THE MAGENTA PINK HUE HASN'T DRAWN YOU ALREADY, I PROMISE THE TASTE WILL!
Just that line from One Hungry Bunny's blog got me hook, line and sinker. Throw some sage into the beet pesto, voila! you've got yourself a wonderful meal. With my daughter's obsession with pink, I think this one would definitely bode well with my 6 year old daughter!
So…here goes. The host(s) for March's challenge is are *drumroll*:
Please join me in the heartiest congratulations for their top-notch use of Sage in combination with a rather unusual pairing of other ingredients. They'll be your new hosts for March as I;ll be passing on the baton to them.
Just so you are aware, Jas is keeping track of new hosts and ingredients here where you can also find instructions on how to play. Can't wait to see your ingredients and to play along! If you would like to participate too, follow One Hungry Bunny and Binky Culinary Challenge to find out what they'd be picking for March's ingredient.
In case you missed it, my contribution to the game in the form of Sage-Infused Feta & Potato Gratin was posted last week:
The insides are all packed up yet crumbly soft at the same time. The Feta Cheese oozes out of the ridges and the infused sage in Olio con Pepperoncino gives it a wilful personality. A very hearty dish that's good as a side-dish or even breakfast!
So there. Thank you for indulging me by sharing my post and for playing along. Best of all, it has been wonderful to get to meet other bloggers who share the passion for cooking.
Happy cooking!