January 23, 2014
The weather has been absolute delight since last Sunday as temperatures plummeted to the high teens and low twenties.
Below is an image taken off Bangkok's on-ground most resourceful volunteer Twitterer on anything and everything about Thailand just a few days ago: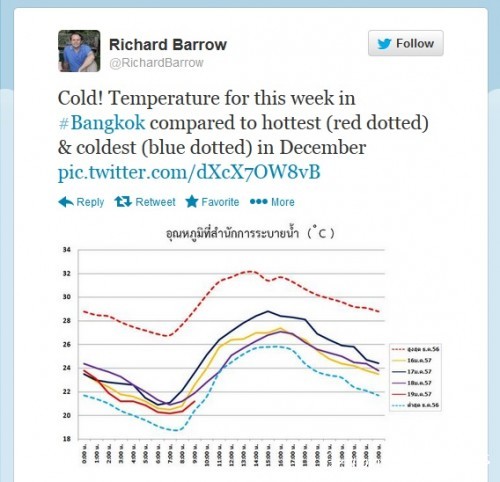 The cold spell has lasted a while and this has been one of the longest, yet rare occurrences for temperatures to remain below 30 degree celcius. When I woke up this morning, I thought it felt chiller than the last few days. I went on to check the weather app on my phone and it reflected a chilly 16 degrees Celsius. Excited with my find, and this being a rare weather spell in hot and humid Bangkok, I enthusiastically informed Silver Bullet. He dismissed me and thought that I was suffering from "exaggeratis" as the temperature on our tower fan had reflected an acceptable 23 degrees Celsius.
No, I wasn't going crazy. This was how chilly it was today:
The kids and I are running out of sweaters and long-sleeves to wear in the day, and at night, we are decked out in sweat pants and the kids go to bed with their socks on. Quite weird, but kind of nice!
The weather has gone a little wonky on this side of the world, but,  it is the kind of weather I don't mind having. I just wish it could be like this every day of the year. We save a lot of electricity this way, too!