July 31, 2017
Screw warm, always sunny days. We are in the Netherlands! The weather always makes for a good conversation.
While we did have some good weather since spring, summer here has been not at all warm, sunshine and dry. That part of summer being blasted by ray of sunshine, is perhaps by now all done.
Instead, we have grey and cloudy skies, windy days as well as rain and hail in between 5 minutes of sunshine. It's the best time to stay at home in my opinion. Cosy-up with a cup of hot chocolate, dump the kids in the daycare and make them other people's problem for several hours and then proceed to watch TV and/or sleep all day.
But that's not going to happen, especially if you are a working parent trying to make ends meet so you can pay for your mortgage, feed your kids and cats as well as being sucked dry from issues in the mortal world that may or may not be your own problem.
That said, it would not be a bad idea to look up in the sky every once in a while. Because, despite the wet and somewhat crappy weather, we have rainbows.
No kidding. 2 days in a row!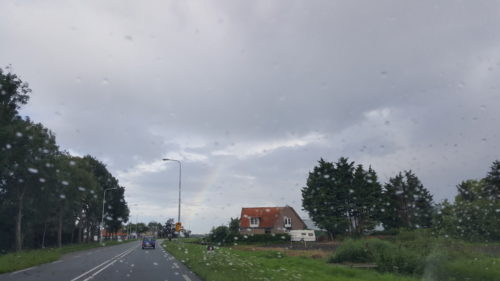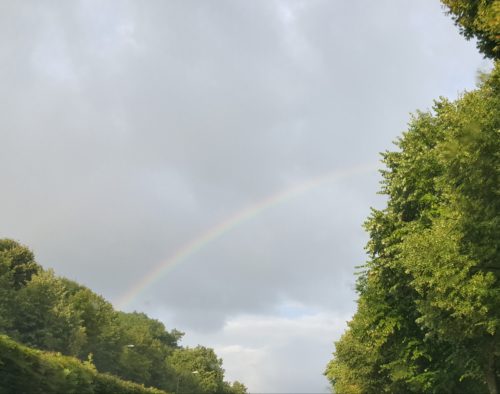 Despite the dreary skies on our daily morning commute, sights such as those always bring a smile to my face. There's something about rainbows. The colours and the distinctive majestic band never fail to lift my spirits up.
Even for a short while.
As for that pot of gold we know everyone was talking about…I'm sure we'll find the damn leprechauns soon enough. Work with me here.