November 30, 2013
Bangkok has been making international headlines of late with the recent surges of protests happening in all around. There have been a lot of people on the streets,  but the tension has not (yet) reached the level of what we had experienced when we had the lockdown in May 2010. 
With my most recent updates of the current situation coming through Facebook and Twitter, it is looking like a big party is happening in various pockets of town… and we are not going to be in it. News from a few days ago suggested that this whole week will be a week of disruptions as massive anti-government march fanned out to 13 locations in a growing bid to topple the current government. This time round, the anti-government protesters are made up of mostly the middle and upper classes  of the society and many of my ex and current colleagues have been joining the rallies. As confirmed by a few of my colleagues, the rallies have been peaceful where people get together, eat free food, share their snacks, chit-chat, make new friends and even get to see a concert when the night falls.
Yesterday afternoon, there was a major march near my office where the entire road was blocked off. I didn't see it for myself as I had consciously avoided the area, but managed to get a peek of the scene through FB's updates.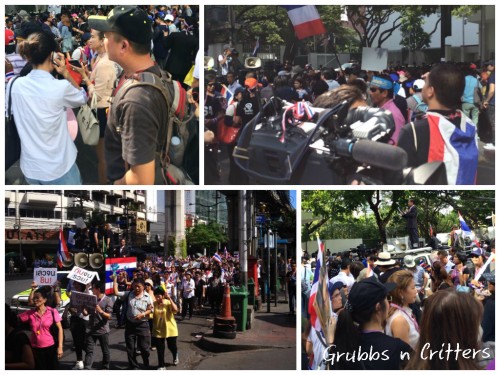 There are no major disruptions that I know of at the moment and life continues as normal. However as per previous coup we have experienced, we never know when things would escalate. Currently the only small difference I have noticed is that the expressway close to our home has been relatively empty with a few cars passing by every few minutes, rather than many cars in a few seconds.
Like all the other coups that had happened in Thailand, we do a wait-and-see for another exciting journey yet again.
Related post(s):