March 27, 2014
If there is ever a cat that:
a) refuses to groom itself
AND for some reason
b) does not even think that scratching its claws instinctively is canine-like and is a necessary survival skill, that cat has got to be one of ours.
Andy, our oldest and most grumpy cat in our household hardly ever grooms herself, let alone use the scratching posts for her claws. She has actually been that way since we got her years back from Chatuchak. We have always suspected that she is likely to be a reject from her brood and was born with a little defect. And, despite her very dainty look, she is actually quite a high maintenance cat when it comes to grooming.
Not only does she has recurring problems with ingrown claws that would sometimes grow into her paw pads when we forget to trim her claws every once in a while, she also always get horribly matted fur that we suspect has caused her a lot of discomfort and pain. There has been many a time when I toyed with the idea of shaving her fur off, but whenever I suggested that, Silver Bullet would quickly kill my idea and thought that I was being cruel.
Until recently.
Andy's fur got so matted up that it was impossible to groom her. The only way to go about it was really to shave it all off…and this time, it was at the suggestion of Silver Bullet. 🙂 🙂 🙂
So off to the groomers we went on one weekend. I managed to snap a picture of Andy being prepped up..and boy! if looks could kill I think I would have been dead.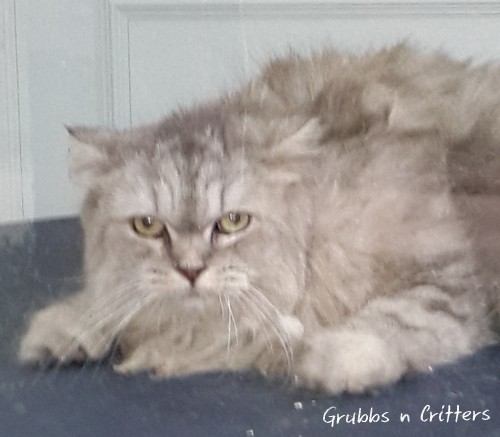 We picked her up an hour later and when we let the cat out of the bag when we got home, let's just say that the kids were convinced that we brought the wrong cat home.