June 26, 2017
Spud is only a couple of months shy before her 7th birthday and these days, she's been keeping us busy with worldly questions that we don't quite have the answers to. Sometimes we even forget that despite all her questions and somewhat adult interpretation to things, she is still only just a child.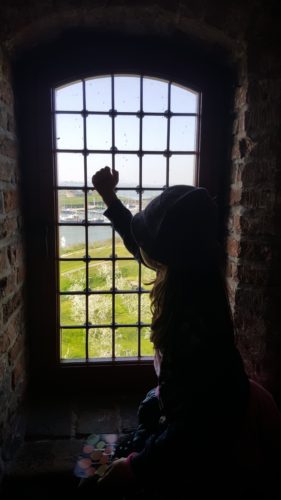 She is also in the age where she has become more aware of the world around her; of what are real and what are not…and of those that are tangible (therefore real) and those that are not tangible (therefore they don't exist).
This of course includes monsters under her bed, ghosts and men with big belly, white beard wearing fancy red costume who only show up during Sinta Klass and Christmas.
No matter what or how we tell it to her, she has made up her mind that monsters and Sinta Klass/Santa Claus do not exist.
As with her recent argument of God being just a story and when I try to explain to her the concept and the different beliefs of Gods, she would not have it.
In fact, she thought that there are too many types of Gods to keep up with (I kid you not!).We told her that she should keep an open mind.
So technically, we can't quite scare the shit out of this kid because in her mind, certain things and entities just do not exist. There was no arguing with her on this one as with my recent conversation with her (and her brother) recently.
Me: You guys did very well today. Both of you are angels!
Squirt: What are angels?
So there's me then trying my best to explain to them what angels mean in the simplest way I could.
Me: Well, angels are invisible beings. You can't see them but they are with you all the time. In fact an angel sits on each of your shoulders and they watch over you. They are sitting there right now! They guide you and help you along the way. They sometimes help you to make the right decision of not doing the things that would be wrong. They do it in little whispers and your heart knows it when you hear their voices. Maybe like Tinkerbell!
Spud: Mama, Tinkerbell is a fairy. Fairies are not real and they don't exist!
Me: Oh right. Tinkerbell IS a fairy. But she could be an angel-fairy too. She helps with stuff right? And she's a good fairy who always helps along.
Spud: Yeah. But it's a story.
Somehow, that conversation was dropped as we moved along with after-dinner clean up. Later on that night as I lay down next to her while tucking her into bed…
Spud: Mama, I'm not hearing it.
Me: Hearing what, sweetheart?
Spud: I thought it in my head. I say I'm going to steal. I'm still waiting for the voice to tell me something that I should not do it. But it never came!
Me (groaning a big URGGGHHHHHHHHH! in my head): … *face palm*…
That little kid caught me off-guard and though I've got a few come backs which I could throw, none felt like it was the right response.
She left me speechless. It was really hard to argue with that one.
My followed-up response was a smile, telling her that she needs to go to bed and perhaps, she'll hear the angelic voices in her dreams as they watch over her whilst she sleeps. After all it been a long day and I'll just have to buy time with a much more reasonable explanation for later.
I wonder how many more times she tried conjuring up the voice of the angel before she drifted off to Lala Land.