June 12, 2017
Well…not outright anyways.
Though I am very sure, some of these questions had been asked by one of my besties before. The times when we were young…we run free…keep our teeth…nice and clean. See our friends, see the sights, feel alright.
You know…those days!
Yeah. Believe you me, I got me some crazy friends; they do make me feel normal! Shame I don't get to meet them anymore these days. Tsk. Tsk. I miss them.
Then Sandra over at Momma's View came up with these questions. She did say that these are the questions she thinks nobody ever asks and that, before you continue reading remember that they might be awkward as they are questions she would most likely never ask anybody just like that.
These are some hard questions though! And hmmmm…since I've got nothing better to do, I figured I'll give them a go. It brought back memories of the times when my bunch of A.B.normal friends hang out. All in good fun!
1. Are you drooling when brushing your teeth? I don't think so. When sleeping though…
2. How often do you clean your bathroom? Almost daily. Well, the drainage. I clean that everyday because it clogs up. That counts right!
3. Do you ever scratch your bum or you know what…? When they itch. But who does that! 😉
4. Do you smell your own armpits? When shaved or unshaved? Either way, they come with baby-like scent I swear to God!
5. How long do you go till you wash your hair? I cannot NOT wash my hair. It's a daily affair.
6. How often do you shower? Every single day. Twice a day. Even when it's cold. Hence the nice armpit smell!
7. Have you ever pooed and then realized you had not toilet paper? Oh…that happened.
8. f you run out of toilet paper what would you use to clean your bum? Back in Asia, we use to have butt squirters! Very convenient.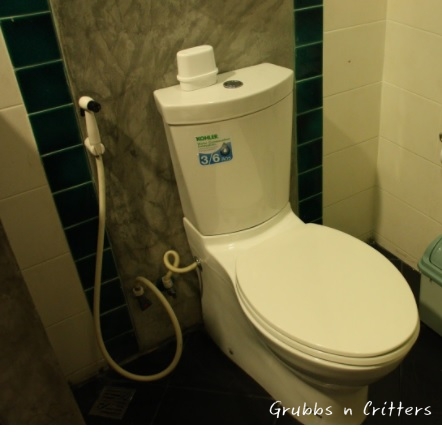 9. What's the silliest way you spend money? Groceries and baking supplies I don't need. And those damn spinners for the kids.
10. Do you feel like the tourist nobody wants to have around when you are on vacation? Nope. I'm discreet, but the kids make it hard sometimes.
11. Do you misbehave when you are on vacation (thinking spring break crazy)? Very.well.behaved.adults. Except for when having to scream at the kids.
12. Have you ever vomited over someone's shoes? Not that I remember. But my kids, however…one of them just threw up on me and my shoes a week ago just when we got out of the car.
13. Did you ever get so drunk that you couldn't remember a single thing? It was the meds!
14. What do people really dislike about you? My (perceived) aloofness and sometimes being an emotional fuck-wit.
15. Is there something you tend to ignore in regards to your spouse? His nagging
16. Do you snore? My cats do too
17. Does your partner snore? But of course!
18. How does it make you feel when you hear snoring? Hahaaahhaha! Are you kidding? I hear nothing. I'm usually dead to the world. And I cover my face with my pillow.
19. What do you do with ear wax? The really yellow ones that you see at the end of the Q-tip? I think the colour and texture can be quite fascinating! Don't you think? Come on.
20. Do you play with your buggers? Not anymore. I grew up. They don't exist. Tried and tested. See below answer in #21. #howiknow
21. Do you check out your napkin after blowing your nose? It's like ear wax. I cannot NOT check after blowing my nose. Scrutinising the colours and the thickness if of utmost importance to fully understand the well-being of the residents in my nose.
22. When you drop food, do you eat it still? The 3 second rule applies. Though depending on how filthy the floor is.
23.When you see a person that you find gross while on the beach, what do you do? I'm good at ignoring things like that.
24. Do you like to be touched? Not by strangers.
25. Do you ask people how old they are? Depends. Sometimes.
26. What do you think of people who have more than 6 kids? How do they cope and how have they not lost their sanity yet?
27. Have you ever told someone to pluck their eyebrows? No. Their body hair, their choice.
28. Have you kids ever asked inappropriate questions? I'm sure the best is yet to come.
29. Have you ever asked a stranger where they live? Yes. To help them out when they are lost.
30. Did you ever pee on someones fence or next to someone's house? Nope.
31. Have you ever watched someone while they were… well, you know…eating? All the time. My favourite past time
32. When you are at the gym, do you check out other people there? I can't be bothered. With gym.
33. While at the gym, do you wipe your equipment after using it? See above.
34. Do you sweat a lot? Hardly. Even if I do work-out.
35.Do you sometimes put deodorant on instead of showering? I shower THEN I put on my deodorant. They both go hand-in-hand. Unless I smell before I had the time to shower to be somewhere else. But see #4.
There's no tagging here, but if you happen to be reading this why don't you give it a shot as well? Meantme, check out these few bloggers who also answered Momma's View Questions with unabashed bravado!
Too much information? Well…enjoy. It is after all only Monday!