March 1, 2014
Little Squirt is now a blabbering toddler who wouldn't, for a second, stop yakking. He is constantly trying to form an opinion and making his presence known. Even though he is not able to articulate himself well yet, he is able to react quite violently to things that don't quite suit his fancy.
When he does not get his way, he would react with a very vehement "NOOOO", followed by throwing things at you. That would usually resulted in us quickly reprimanding him as we look hard into his eyes (he tries to avoid looking at you in such situations) which promptly would make him burst into awful, awful tears as he succumbs to making eye contact with us. The crying usually lasts no more than a minute, and with real tears in his eyes he would flash a smile in no time as we distract him with other pleasant things.
Like his sister, Squirt could not help himself. He lunges into and from the sofa at some height, he canon-balls from couch to couch, he climbs over the cat scratch post possibly thinking he is a cat, he would climb over tables and chairs as he watches TV at the same time and he would haphazardly place is fingers in between door hinges as he plays with the door when we look away for 5 seconds.
In short, he never fails to give me the occasional heart attacks, yes.
He certainly has a mind of his own at this age, and every once in a while, he managed to get me to raise my voice at him (and the crying began soon after). A week ago, I raised my voice at him and reprimanded him for some things he shouldn't do. He refused eye contact and to get my message across, I had to sit him up, held him firmly and tried every way I could to get eye contact. He finally relented, and, as I scolded him, this little guy burst into tears, put his hands around my neck and his head on my shoulders wailing his guts out, and without warning, peeled away from me (still crying) looked at me (still crying) and then gave me a kiss (!). This little guy has never been generous with kisses, and so I was caught off guard when he did that. And as I buried my face into my hands, admitting defeat, Squirt gave me a smile, escaped from my hands and took off.
So again, Squirt 1, Mama 0.
So you see, Squirt is this comical little guy, and probably makes for a very good future diplomat or politician. The little man is all energy. Despite his dramatic reaction to being scolded, he is always, always smiling. He is also always trying to make conversation as he forms short, but sometimes complete and understandable sentences. He surprised me recently by calling out the names of the three cats one morning as they all made their way into his room one by one – and he called them out with such huge smile of pride on his face.
Unlike his sister, we hardly ever get to read bedtime stories to him. Squirt has been far more impatient with us and prefers to read on his own. By reading, I mean flipping pages. He always takes his own little sweet time to flip every single page of the books and he would make sure that he goes through every single one of his books, one at a time. It does take a little bit of cajoling to tell him, "OK. Finiiiiish!" before he is willing to put his books away – one at a time! And he only puts them away on his own term.
Toilet training for our little man is not quite in the horizons just yet (I'm lazy!) but somehow, Squirt has recently discovered that flushing the toilet every 5 seconds is fun. I am counting down to the days when he starts to discover that stuffing things into the toilet bowl is fun, too.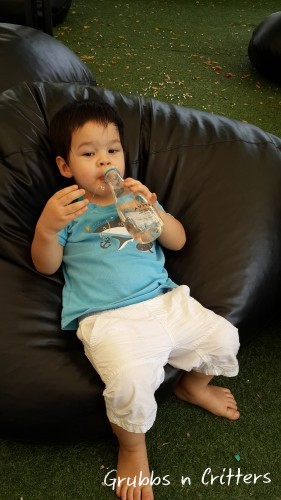 Related post(s):