May 20, 2016
With no capacity to be cooking up a storm in the kitchen this past week and the much-dreaded thought of not having any recipes to share for this week's Fabulous Friday Flavours, I thought I'd feature three of my favourite Thai Kanoms (aka snacks) to whet your appetite.
Kanom Krok Baitoey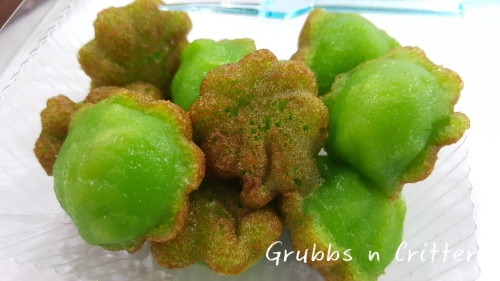 Made from flour, sugar, coconut, salt and pandan in a special heavy iron pan, they are quite similar to the Singaporean-style Kuih Bakar which I love so much. The difference, in my opinion, is that the Thai version is slightly lighter and chewier as compared to the denser, richer but softer Kuih Bakar.
The taste is quite similar but the texture does vary from vendor to vendor. They are usually sold in batches of 12-15 pieces for 25 baht (about 72 cents USD)
2. Kanom Lookchoup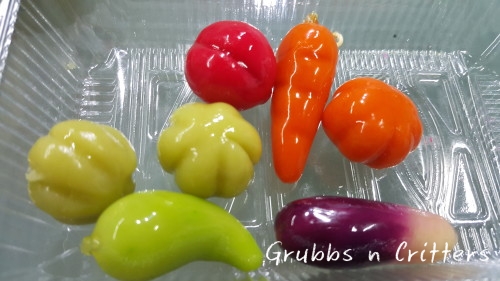 Don't they just look fabulous and almost real?
These lovelies are made from sweetened yellow bean paste, colouring and are coated with a layer of gelatin (or agar-agar) to retain their colour, shape and form.
If anything, these are fine work of art. They are usually shaped in miniatures of fruits and vegetables and each and every one of them are being hand-crafted and hand-painted with food dyes. They look like real fruits and vegetables and are too pretty to be eaten!
3. Kanom Bueang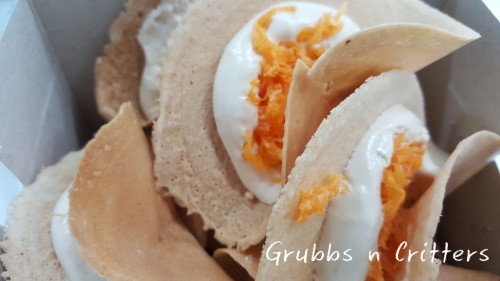 This is the Thai version of mini-crepes which also happen to look like a taco. Except this kanom is sweet, sweet, sweet. So sweet that I could feel the enamel of my teeth crumble!
The interesting this is that the shell is made of crushed, powdered egg shells along with mung bean flour, rice flour, egg, sugar and cocoa powder. Each shell is then stuffed with sweetened whipped cream and sweet golden egg yolk threads, also known as Foi Thong.
They are usually sold in a batch of 10-12 for about 25 baht – 30 baht. It is quite hard to just stop at 1 or 2…and guaranteed to give you some sugar high!
These kanoms are omnipresent in the Thai street-food scene, although sometimes you just have to know where to find them. The prices also vary by location. They were my g0-t0 after lunch snacks and I've been lucky (or not!) to get easy access to them these past few years as they always pop-up in the vicinity of my Bangkok office.
I took these pictures during my lunch breaks before we left Thailand and somehow never got round to posting them. Now that we have physically left Thailand, I feel compelled to. Only because I KNOWWWW that I'll be missing these babies very much. Typical isn't it!
Only because I KNOWWWW that I'll be missing these babies very much. Typical isn't it!
Sweet sweets for a sweet life. Still, these kanoms are not to be eaten every day. They are not very good for the waist-line.