April 6, 2018
You read that right: Savoury. Cake.
Whoever says cake has to be sweet? Because if you are anything like my mother-in-law, baking a sweet cake would just be a waste of sugar, butter, flour and eggs as she doesn't like sweet stuff. Typically cakes. Which automatically means that a typically sweet, spongy, creamy birthday cake would be lost on her.
So how?
That's when we thought about making a cake savoury. She loves cheese – lots of it, though cheese cake is a no-no. We somehow have to use real, hardcore cheese. Ironically, that has actually inspired the theme for this month's mystery munchies where the challenge is to use berries and pistachios.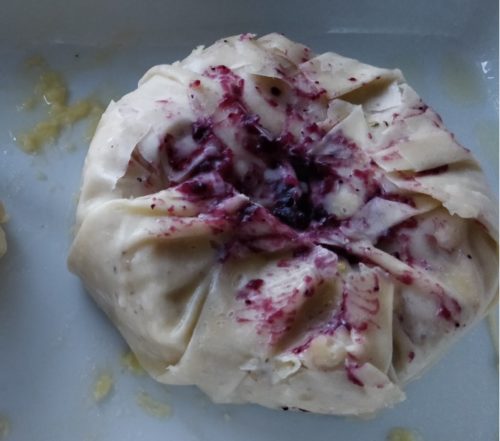 Sold yet? No? you will be after this because what you see in the above picture is only half complete.
What you don't see is the soft, gooey Camembert cheese sprinkled with crushed pistachios underneath layers and layers of filo delicately brought together with melted butter. It is then topped again with blueberry sauce before crinkling the filo together at the top, drizzle it with more blueberry sauce and pistachios.
You cannot go wrong with this. It's fail-proof and I highly recommend it: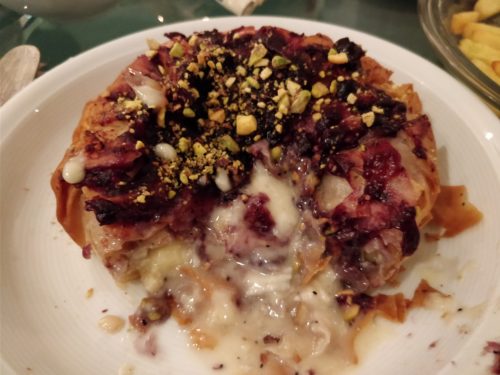 Savoury Cake: Camembert in Filo topped with Blueberry Sauce & Pistachios
2018-02-27 04:38:13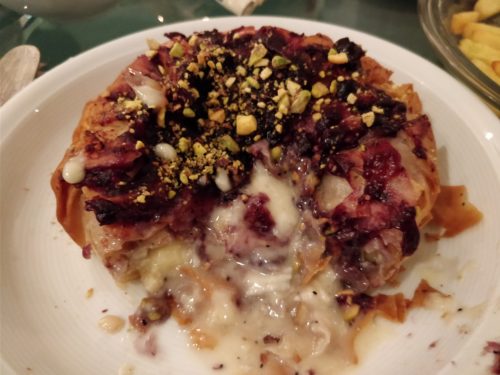 Serves 5
Cheesy, savoury, nutty and gooey alternative to sweet cakes!
Ingredients
1 block of Camembert cheese
5-8 sheets of filos
Melted butter
One cup of blueberries
1/3 cup sugar and some water
100g crushed pistachios
Instructions
Mix fresh blueberries with sugar and water in a hot pan. Reduce the mixture into a sauce. Cool and set aside.
Layer 5-8 sheets of filo one on top of the other with melted butter in between each sheets
Place the camembert in the middle of the filo sheets
Glaze the top of the cheese with blueberry sauce and top with the nuts
Cover the cheese by crinkling the filo sheets together.
Spread melted butter around the filo
Top it wth the leftover sauce and sprinkle more pistachios
Bake for 20-30 minutes or until the filo turns brown
Serve hot!
Notes
Feel free to layer with more cheese on top or substitute with a different type of cheese such as brie.
Grubbs n Critters http://grubbsncritters.com/
This has been the easiest and fastest, no-fuss birthday cake I have ever made. For cheese lovers, I bet this is must be a real treat and there is room to wriggle by adding another layer of cheese on top of it with all sorts of nuts to go with it.
A great substitute for those who are adverse to sweet cakes.
This has once again been a good exercise to stretch the creativity of what's possible with simple ingredients such as berries and pistachios. Knowing Gen's affinity for berries and nuts herself (pun on nuts intended!). I have no doubt that Gen would double the pleasure with her berry-nutty creation for this month.
Let's pop over to check what's on her plate at Gen's #34 Monthly Mystery Munchies she'll be making with this crazy, little twist.
==========================================
Monthly Mystery Munchies features every first Friday of the month in collaboration with Gen, Author of Eat, Play, Clove. Stay tuned with next month's edition from the Grubbs 'n Critters' Kitchen!