October 6, 2014
It looks like I was not going to stop at what I-thought-would-be my one and only black ankle strap shoes when I saw a nice looking pair in a different colour, propped up at a window display of a shoe shop located at All Seasons Place not too long ago.
I remember doing a double-take when I hurried past the shop and I made a mental note to myself to check it out when I was done with my needful errands at lunch break. A few tries and 5 minutes later, I walked out of the shop with 2 pairs of shoes and 5000 baht poorer. The shop owner was super nice too.
That's how I usually buy shoes – I noticed it, I tried it and if it fits and if I really like it, I'm done in a matter of minutes.
This one here is made locally  and fits comfortably snug on the feet. I fell in love with its unique colour scheme of turquise-blue and grey when I first saw it from the corner of my eye. I can't help myself and I just HAD to have it.
This design comes in 2 different colours, the other being black and red which I also loved. I  might just get the other colour…in time.
This has been a great find and that's one more sassy-looking footwear added to my shoe collection.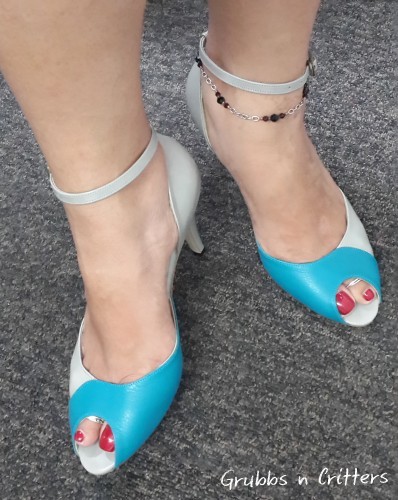 Cost: 2,900 Baht
From: Angeli, All Seasons Bangkok