May 5, 2017
With already more than 48 recipes concocted between Cheftress Gen and myself , I thought it would be apt to revolve the theme for this month around what we've made in the last 24 months. The catch: We each have to pick a recipe that was done by the other person and introduce another ingredient to give it a personalised spin-off.
Sounds fun right?
My only problem was picking out which one without feeling like I'm discriminating the rest of her other yummilicious recipes. And between my phone and my laptop, Gen should have gotten quite a bit of traffic from me alone as I poked around her recipe index to pick out my selection!
This was not at all easy to decide. As it is, Gen has many good ones to try and besides having to consciously eliminate the several few which I have tried before, I also need to be unbiased to the rest of the remaining ones. It doesn't help that I also was torn between a few!
So with the best of my decision-making capabilities, I traced back to what she did last year in the same month. It was this: Steak with Caramelised Cranberry and Pomegranate Sauce.
That was it. A bonus for 2 reasons: I haven't done steak in a very long time and Silver Bullet tends to have a soft for a good steak. Steak it shall be!
But there was a problem: I thought the recipe is as perfect as it can be. Would I do it any justice to add another ingredient to spin-it off? What could I possibly add so as not to destroy and insult Gen's creation? It's almost a heinous crime!
I guess I could change the garnish to something else because well, I didn't have rosemary.
There was another problem: Pomegranate was not in season. I could find none! But I was adamant to stick to this. Somehow as I scoured the aisle to look for cranberry juice, I found pomegranate juice with green tea instead. Want to know what else? Instead of pomegranate, I found cranberry pips instead (on sale!).
How screwy was that?!?! I was thinking, I was just about to massacre Gen's dish!
Then it hit me that this is not about destroying and insulting. It's about experimenting, personalisation and innovation to tickle the taste-buds. And that's what makes a dish so different from person to person. It's that "spin". Plus, Gen is always a good sport and I certainly would not mind she "massacring" my recipe if that means I get to gain a new one!
With the base sorted, I then thought that perhaps infusing fennel and caraway seeds would bring the fruity taste to another dimension? How about adding a dash of Bhut Jolokia (from Prague still tucked in my spice drawer) to contrast the fruity sweetness?
My gut said it could be pretty good.
Or maybe just very very bad! I mean, Green Tea? Really?!
What do you think?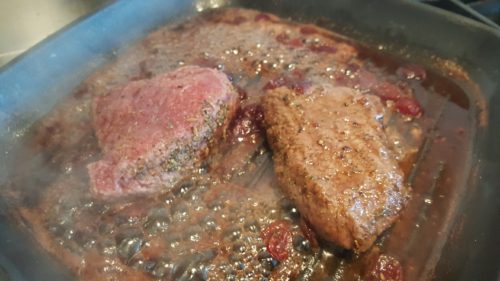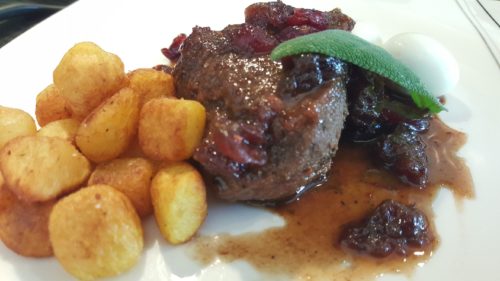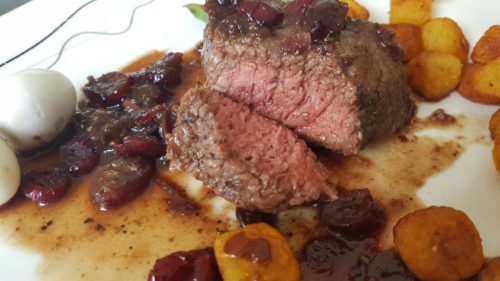 I'd say, always trust your gut.Green Tea Pomegranate and Cranberry Pips? Pretty darn good. Herbs and spices? You'll be on your knees. Bhut Jolokia?! Bring the fire on people! So very easy to make too. Here we go: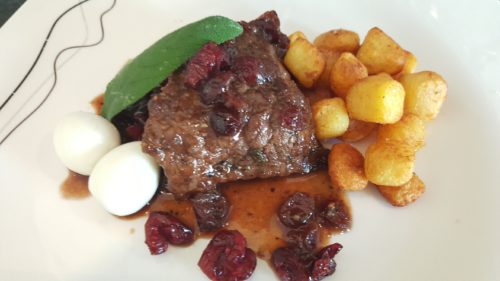 Spiced Steak with Caramelised Cranberry and Pomegranate Sauce
2017-04-21 19:05:28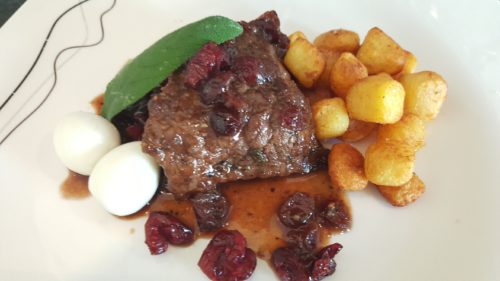 Serves 2
A sticky, sweet and biting reduction of fruity sauce on spiced steak
Ingredients
200ml pomegranate green tea juice
125g cranberry pips
1 tbsp brown sugar
1 teaspoon paprika
1 tspn fennel
1 tspn caraway seeds
2 sage leaves, finely chopped
2 pieces of steak
Non-stick spray
Sea salt and freshly cracked black pepper
For garnish (optional): Fresh sage, quail eggs and potatoes
Instructions
Mix the first three ingredients together, reserving half of the cranberry pips. Marinade for an hour.
Combine fennel, caraway seeds and sage leaves to roughly ground them up. Set aside
Spray a griddle pan with non-stick spray.
Pour the marinade in, bring to a boil and add in the bhut jolokia. Then simmer for 5 minutes until it starts reducing.
Season the steaks with salt and pepper, and rub the sides with the ground spices of fennel, caraway seeds and sage.
Sprinkle the rest of the pips on them, and fry on medium-high heat until cooked to your preference. (For a 2cm steak: 2-3 minutes per side for rare, 4 minutes per side for medium, and 5-6 minutes per side for well done.)
Serve the steak hot, and garnish (optional).
Notes
The use of Bhut Jolokia is definitely optional. If you do choose to use this particular pepper, just be wary of it as anything more than just a dash could be painful to your tongue. Handle the pepper with extra care!
Adapted from Eat, Play, Clove
Grubbs n Critters http://grubbsncritters.com/
The taters and quail eggs you see here were really just an after-thought. Only because I had left-overs in the fridge and they made for very nice sides. So there, a twist on the ingredient and we have a new dish on our list. Isn't that just awesome?
No wait! We are likely to have 2 new dishes as Gen put her own spin to this month's challenge. Come, come let's pop over to Gen's @Eat, Play, Clove and see her version of the truth on taking a dish to another level!
==========================================
Monthly Mystery Munchies features every first Friday of the month in collaboration with Gen, Author of Eat, Play, Clove. Stay tuned with next month's edition from the Grubbs 'n Critters' Kitchen!