April 10, 2015
A dollop of butter, creamy cream and parmesan cheese on your pasta…bubbling away on a pan…smell that aroma filling up the house… what's there not to like?
Mix and match that with your choice of vegetables and meat if you like, and choose tri-coloured rottini as the carbo of choice. All home-made and you've got your family a meal. My kids have been obsessed with this dish – a good sign!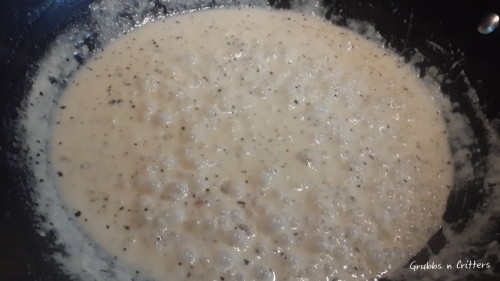 Tri-Colour Rottini Alfredo
2015-07-13 13:54:11
Ingredients
2-3 cups of tri-coloured rottini
1 clove garlic
Half cup butter
1 pack of creamy cooking cream
3/4 cup shredded parmesan cheese (1 also added in about 1/4 cup of leftover herbed Hungarian cheese!)
2 teaspoon dried Italian Basil
Salt and Pepper to taste
Instructions
In a large pot, cook the rottini as directed, then drained
Heat up the saucepan, melt butter. Add in pressed garlic and italian basil.
Add in the cooking cream over low heat. Mix well and stir in the cheese(s), salt and pepper. Let it boil over slow fire for about 5 minutes
Put rottini in a separate dish, pour the cream over it. Or if you prefer, add in all the rottini into the cream in the pot and stir well.
Grubbs n Critters http://grubbsncritters.com/
Serve!